Wine publications and promotional material from wineries would have you believe that small case production of Pinot Noir translates to better quality. This claim has some truth to it as Pinot Noir does not lend itself to the large production winemaking techniques used in crafting other red wine varietals. Most cracking North American Pinot Noirs are hand-crafted in less than 500 case quantities, even less than 100 cases, much like the great wines of Burgundy. However, small production is labor intensive and often results in high prices ($40 and above), and is no guarantee that the wine will be a winner. Like Burgundy, it is most critical to know the producer when choosing a Pinot Noir wine. One can then look to appellations or specific vineyards that possess the terroir to capture your attention.
Acquiring knowledge of Pinot Noir and its producers is a lifelong hobby. Today, there are more American wineries making Pinot Noir than any other red variety. There are well over 1,200 wineries in California and Oregon crafting this righteous juice, most of which are very small, family owned, boutique operations. Small production creates a challenge to source and acquire the good stuff, but the journey is filled with anticipation and surprises. As a devoted Pinot Pimp, and champion of the accomplished small guy, I am happy to lead those of you with a glint of Pinot Noir in your eye on your adventure. You can begin with this issue, filled with marvelous wines from sixteen small California and Oregon wineries. Get crackin.
Arista Winery
Russian River Valley, California
Arista Winery is one of the new bright stars on Westside Road in the Middle Reach sub-region of the Russian River Valley. The estate consists of 36 acres that was originally a part of a Southern Pomo Indian village named Budutcilan. In the mid 1800s, the area was a prime growing site for the lumbar industry and later for hops. The McWilliams family acquired the property in 2004 and in mid 2005 the Arista Estate was opened to the public.
Arista winery is a small, family operated affair. The patriarch is Al McWilliams, a former orthodontist who had previously farmed Pine Mountain Vineyards in the Alexander Valley with brother-in-law John Copeland. The McWilliams could not use their family name for their Russian River Valley winery since E. & J. Gallo owned a similarly named winery in Australia. The letter sent to the McWilliams family from the E. & J. Gallo attorney suggested two alternative names and Arista was chosen.
Currently, Arista sources Pinot Noir from several Sonoma County vineyards. 10 acres of high density vines have been planted on the estate property by vineyard manager Ulises Valdez, and a Pinot Noir from the site will be produced beginning in 2010. Ben McWilliams directs vineyard development and oversees grower relations. Plans are afoot to soon build a winery on the estate property. The winemakers are veteran Leslie Sisneros, a University of California at Davis graduate who crafted Pinot Noir for Kendall Jackson Wine Estates for thirteen years, and young Mark McWilliams. Mark developed a passion for wine fresh out of college working for Kendall Jackson Wine Estates leading to his interest in winemaking. Besides assisting Sisneros, he manages the day to day operations of the winery.
The emphasis at Arista Winery is on vineyard-designated wines including Pinot Noir, Zinfandel, Pinot Gris, and Gewürztraminer, all produced in lots of 80 to 300 cases. The wines have been very favorably reviewed in the wine press, and as a result, the mailing list of customers has become crowded, but is still open to newcomers. The single vineyard wines are only available to mailing list members. Some of the larger production appellation wines are sold online, distributed to retail wine stores and offered in small amounts in the tasting room. The winery was not included in John Winthrop Haeger's comprehensive book, Pacific Pinot Noir, (published in 2008 and not on Haeger's radar yet), but as the Pinot Noirs reviewed below from the 2008 vintage demonstrate, this producer definitely deserves your attention. The wines all displayed admirable balance, a sign of impeccable winemaking.
The winery's beautiful tasting room is surrounded by a serene, Japanese garden. Located at 7015 Westside Road, visitors are welcomed daily from 11-5. The venue is available for weddings, corporate meetings and other special occasions. The winery's website is www.aristawinery.com and phone is 707-473-0606. The winery is currently offering a "Taste of Arista" gift box, which includes six 50 ml tasting bottles of 2008 Arista wines ($35), a unique way to sample several wines before buying.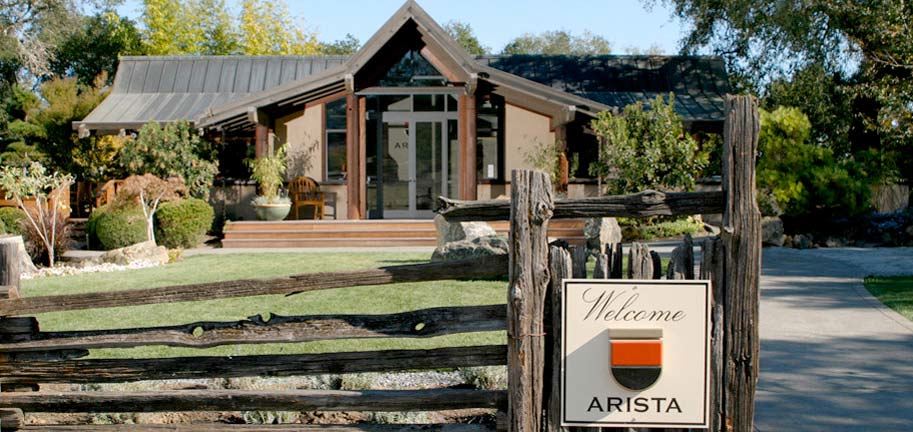 'this'
Arterberry Maresh
Dundee Hills, Willamette Valley, Oregon
The Maresh family is closely tied to the history of Pinot Noir in the Williamette Valley. Jim and Loie Maresh were Wisconsin natives who met as students at Marquette University. The couple bought a 26-acre farm in the Dundee Hills in 1959. They expanded their holdings while Jim worked for Dunn & Brandstreet and served as a reserve officer in the Navy in Portland. Their home was relatively isolated, but they enjoyed the life of farming cherries, nuts and prunes.
Dick Erath, who had begun to farm 49-acre vineyard in the Chehalem Mountains in 1968, encouraged the Maresh family to grow wine grapes on their site. They followed his suggestion and in 1970 planted three acres of Pinot Noir vines. At the time, David Lett (The Eyrie Vineyards) had the only Pinot Noir vineyard in Yamhill County. The Maresh Vineyard was the fifth to be planted in Oregon and the first vineyard developed on Worden Hill Road outside of Dundee, now a major epicenter of Pinot Noir in the Willamette Valley.
Jim and Loie had five children. One daughter, Martha, married Fred Arterberry who was one of the first Oregon winemakers to have a degree from the University of California at Davis. Arterberry produced many award winning wines including the first sparkling wine in Oregon. Fred Arterberry's 1985 Pinot Noir received a 95 point score from Wine Spectator and was Oregon's highest scoring Pinot Noir for more than twenty years. Martha and Jim had a son, Jim Arterberry Maresh. When the eldest Jim died, Martha remarried but kept Maresh as her last name.
The Maresh Estate now consists of 124 acres of several varieties including Pinot Noir and Chardonnay. The vineyard is primarily south west facing and is planted on Jory soil at 850 feet above sea level. The southwestern exposure allows for perfect ripening and the old vines contribute a depth of flavor and complexity that is matched by few other Pinot Noir vineyards in Oregon. The vineyard is managed by Stirling Fox. About 50% of the grapes (600 cases) are vinified as Red Barn Pinot Noir and sold only through the Red Barn tasting room. The rest of the grapes are highly sought after and sold to Daedelus Cellars, Et Fille, Kelley Fox Wines, Scott Paul, Sineann and Arterberry Maresh. Rex Hill produced a Maresh Vineyard Pinot Noir for many years until the winery was sold a few years back.
Jim Arterberry Maresh is one of Oregon's young hounds in the Pinot race. Jim began "messing around" making wine in 2001, apprenticed at Penner Ash in 2003, St. Innocent in 2004 and Cameron in 2005. In 2007 he revived his father's label, Arterberry Cellars, as Arterberry Maresh, releasing his inaugural wines with much fanfare from the 2005 vintage. The label is true to that of Arterberry Cellars, modified only slightly to include the Maresh name. The 2006 vintage Pinot Noirs were particularly impressive. The 2006 and 2007 Arterberry Maresh Pinot Noirs have been reviewed previously in the PinotFile and a 2008 release is detailed below.
The Arterberry Maresh Pinot Noirs are sold through a mailing list with limited retail distribution within Oregon. Avalon Wine is an online source (www.avalonwine.com). The winery phone is 503-434-7689.


'this'
Other 2008 Arterberry Maresh wines available include: Chardonnay ($75), Dundee Hills Pinot Noir ($25), and Juliard Vineyard Pinot Noir ($50). A second label, D.H. Proth Dundee Hills Pinot Noir is a value priced, early drinking bottling ($15 for the 2009 vintage).
Big Table Farm
Chehalem Mountains, Willamette Valley, Oregon
This outstanding producer burst on the Oregon wine scene in 2006. A collaborative effort between winemaker Brian Marcy and artist Clare Carver, the pair are another one of a long line of California emigrants who arrived in the Willamette Valley to farm grapes and craft wine. The pair compliment each others' talents, with Brian the experienced winemaker, and Clair the marketer and manager of their 70 acres in Gaston. He studied fermentation science at University of California at Davis and apprenticed in California at Turley Wine Cellars, Neyers Vineyards, Blankiet Estate and Marcassin, and in Australia at Trevor Jones Fine Wines. She has won multiple awards for wine label design which adorn the wines of notable wineries like Beaux Freres, Phelps Creek and Miner Family Vineyards.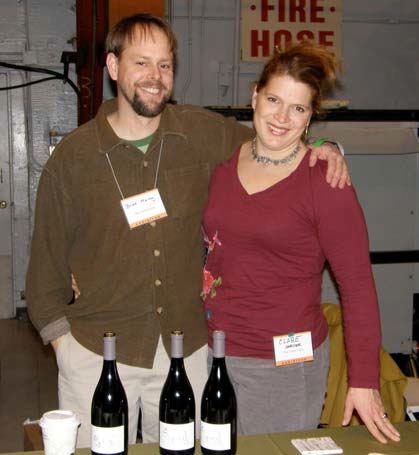 Beyond making remarkable wines, the couple have established a working farm where they raise pigs, cows, meat and egg-laying chickens, and have working horses. The name, "Big Table Farm," reflects the owners' desire to provide a welcoming table for themselves and their friends, laden with artisan foods and wine. Some of the farm-raised animal products will eventually become available commercially.
The lineup of wines have varied each year and the 2009 Laughing Pig Pinot Noir Rosé, 2008 Willamette Valley Pinot Noir and 2008 Resonance Vineyard Willamette Valley Pinot Noir have been previously reviewed (www.princeofpinot.com/winery/964/). Most labels feature a drawing of a single farm animal and are quite stylish. They are fashioned by hand using a letterpress, then cut and glued onto each bottle. Besides the wines reviewed below, a 2009 Riesling from Brooks Estate Vineyard and a 2007 Syrah from California's White Hawk Vineyard are offered. A 2009 Willamette Valley blend will be released in the spring 2011.
Big Table Farm wines are sold primarily through a mailing list at www.bigtablefarm.com. The website is very informative and one of the most modern and well-designed winery websites I have ever visited. The winery and farm are open only by appointment (503-662-3129).
I must admit to being smitten by not only the quality of Big Table Farm wines, but the way the owners stand out as truly personal and talented individuals with generous joie de vivre, and a commitment to sustainable farming traditions. This is the type of small producer we want to, need to, and have to support.

'this'
Bruliam Wines
Southern California
Two novice, but enthusiastic winemakers, Kerith and Brian Overstreet, debuted their label beginning with the 2008 vintage. I have never seen a couple having so much fun in launching a wine business. Brian is the CEO of fast-growing Sagient Research Systems, a leading provider of proprietary independent research and data services to the financial and institutional investment communities, and Kerith, a former surgical pathologist, manages the family of three kids. Their occupational success allows them to donate 100% of their profits from their wine sales to the Overstreet Family Foundation which has multiple charitable beneficiaries.
Their name and label is a colorful play on The Periodic Table of Elements (remember your high school chemistry?). Kerith and Brian consider wine elemental to their life. Bruliam is an amalgamation of the names of the three young Overstreet children.
The inaugural release from Bruliam was a 2008 Doctor's Vineyard Santa Lucia Highlands Pinot Noir which was crafted at Crushpad in San Francisco (previously reviewed - www.princeofpinot.com/winery/621/). For 2010, production was moved to Mauritson Winery on Dry Creek Road in Healdsburg. The Overstreets conveniently have a second home in Healdsburg so they have easy access to the Mauritson production facility. Winemaker Clay Mauritson acts as the consultant for Bruliam wines. He is an accomplished vintner who has made distinguished wines under his Mauritson Winery, Rockpile and Loam brands and has teamed with restaurateur Charlie Palmer to craft the Charlie Clay and Duelist brands of Pinot Noir. Kerith recently worked harvest at Mauritson and her amorous escapades with the heartbreak grape are chronicled in a video posted on the winery's website.
I recently attended a lively release party for the 2009 vintage Bruliam wines at Cucina Urbana Restaurant in San Diego. I sampled the three Bruliam Pinot Noirs offered and was impressed by the easy approachability of the Anderson Valley and Santa Lucia Highlands bottlings. All three wines have much to recommend. The wines are sold through a mailing list at www.bruliamwines.com.
Bruliam wines are made in traditional fashion. After hand sorting and de-stemming and a 5-day cold soak, whole berry inoculated fermentation is carried out. The barreled wine is 70%-90% free-run. Malolactic fermentation is initiated with inoculated yeast and the wine is aged for 11 months in 33% to 50% new French oak barrels. The wines were bottle aged 3 months before release on December 5, 2010.
The Bruliam blog is penned by both Brian and Kerith and is one of my favorite reads on the internet. My wife has curiously checked on me a few times after hearing me burst out laughing while reading the blog.

'this'
de Coelo by Benziger Family Winery
Sonoma Mountain, California
Benziger Family Winery is a very large producer, but the de Coelo (day-chay-lo) label is a small project within the winery that is centered on the estate de Coelo Vineyard located in the true Sonoma Coast. Perched on a rugged hilltop five miles from the Pacific Ocean, the rocky, shallow soils and the cooling fog off Bodega Bay create ideal conditions for growing Pinot Noir. The 25-acre, Biodynamic® certified de Coelo Vineyard is truly on the edge of where Pinot Noir will grow. The vineyard name means "that which is from heaven," a name befitting an estate that nurtures intensely flavorful fruit and a wine of rich concentration and complexity.
Rodrigo Soto, the Vice President of Winemaking at Benziger Family Winery, is spearheading the winery's certified organic and biodynamic Signaterra and de Coelo Pinot Noir labels. A graduate of the agronomy program at Chile's Catholic University, he has extensive international winegrowing experience with organic and biodynamic wineries including work at Matetic Vineyards in Chile and Fetzer Vineyards in California.
The de Coelo vineyard is a project still in development. The lower 5-acre section, called Quintus, is planted to Dijon clones 667, 828 and a Swan selection. The upper steeper 10-acre section, named Terra Neuma, contains Dijon clones 115 and 777. A distinct de Coelo Pinot Noir is made from these two parcels of the vineyard. A third, more exposed and windy site, consists of 5 acres of younger vines (Dijon clones 115, 777 and 828) that will eventually provide a third wine from the property.
The de Coelo Pinot Noirs are serious wines of the earth, full of intrigue and nuance that are worthy of their origin and provide a unique drinking experience. Benziger touts them as more Old World or Burgundian in style than Caliesque, and I think that is a good fit.
Soto's winemaking is traditional using some whole cluster, indigenous yeast fermentations, and aging for 12 (Terra Neuma) to 16 (Quintus) months in 50% new French oak barrels. The wines are unfined and unfiltered. Production is about 550 cases of each de Coelo wine.
The wines are sold on the website at www.benziger.com. Prices are in line with the tremendous cost of farming this marginal Sonoma Coast site. The impressive Sonoma Mountain Benziger tasting room is open daily and special vineyard tours and tastings are available by appointment (707-935-4527).

'this'
Gypsy Canyon
Sta. Rita Hills, California
Over 100 years ago, the first known woman winegrower in California, Dona Marcelina Felix Dominquez, farmed Mission vines on her Santa Barbara County property. The vines survived after years of neglect, and when Deborah Hall, a former nurse, and her late physician spouse, William, bought the secluded property in Gypsy Canyon off Highway 246 in Lompoc in 1994 as a retirement retreat, they discovered the vines under a heavy cover of brush. Hall has named the 3-acre ancient Mission vineyard Dona Marcelina's Vineyard (pictured below), and today, it is the oldest producing vineyard in Santa Barbara County. Using a recipe for fortified dessert wine written in 1891 by Emile Vache, Hall crafts a Gypsy Canyon Ancient Vine Angelica, a similar, rich wine from her Mission grapes. This is one of the most distinctive, limited and meritorious wines being produced in California today.
The Gypsy Canyon property consists of 130 acres with 6 acres of vines in the Santa Rita Creek Vineyard planted to Pinot Noir (Dijon clones 115 and 777) and Pinot Gris. The site has an exceptionally cool microclimate compared to other vineyard sites in the Sta. Rita Hills AVA. Farming is challenging with local deer and birds eager to feast on the grapes. The 2007 vintage was completely lost to deer. Most work is done by hand and is both organic and biodynamic.
Hall is grafting Pinot Noir onto a few select ancient Mission vines, creating the oldest known California Pinot Noir vineyard. The wine produced will be named Nineteenth Century Sta. Rita Hills Pinot Noir. The very limited availability will be sold to current subscribers.
Hall crafts her wines at Central Coast Wine Services in Santa Maria. She says, "I don't set out to make a specific style of Pinot Noir, but rather let the nuances of nature guide me."
The first release of Gypsy Canyon Pinot Noir was in 2004. The Gypsy Canyon package is striking and shows a nod to early California history. Hall uses a hand blown glass bottle of historically correct shape with an embossed glass seal, a handmade paper label, and a beeswax seal. Each bottle is signed by Hall. Magnums are particularly impressive. The historical aesthetic adds to the appeal of the wine inside.
Beginning in the spring of 2011, Hall will offer a Collector's Edition of Ancient Vine Angelica presented in museum quality antique bottles ranging from 300 to 400 years old. The history of each bottle as well as a certified appraisal will be included. Subscribers will be given priority.
The 2008 Gypsy Canyon "Trois" Pinot Noir reviewed below consists of just three barrels of purchased grapes from an unnamed but prestigious Sta. Rita Hills vineyard and three barrels from the estate Santa Rita Creek Vineyard. The finished wine is a 50/50 blend of the two lots. The wine immediately sold out, but you can sign up to receive an offering of Trois 2009 which is to be released in the fall of 2010. I was really taken by the Trois 2008 and shared it with some friends and a sommelier who were also stoked.
Gypsy Canyon wines are sold exclusively through a mailing list. You may join the waiting list by e-mail (concierge@gypsycanyon.com) or phone (805-737-0204). The winery website is www.gypsycanyon.com. Tasting of the winery's Pinot Noir and Angelica are available by appointment for a small charge. The wines are expensive, but their unique historical background and expense involved in production certainly justify the cost.

'this'
Harrington
San Francisco Bay, California
Proprietor and winemaker Bryan Harrington hand crafts small lots of vineyard-designated Pinot Noir from purchased grapes in an urban warehouse winery located in the Produce District of San Francisco. I first became enamored by Harrington Pinot Noirs after tasting them at the World of Pinot Noir in 2006. The wines stood out for their individuality and deft winemaking.
While working as a bartender in San Francisco, Harrington traveled to Europe and was captivated by the very small producers of wine who were tending tiny vineyard plots and crafting a few barrels of wine. It was a model that he eventually was to pursue. He began making wine in his basement, attended several University of California at Davis classes, and moved on to a cooperative winemaking facility in Berkeley. He launched his own label in 2002 and later settled into his present location in San Francisco.
Harrington wines are crafted in an artisan fashion with no wine made in larger than a 300 case lot. All production decisions, the majority of labor performed, and the ownership of the means of production are under the control of one person. Bryan says, "It is my responsibility each year to use every means possible to bring a fruit-full and authentic wine experience to your glass."
Most Harrington vineyard sources are aged and planted to California's older heritage clones. Vineyard sources have varied in different vintages, but they have all been exemplary. "Vineyard sources have been chosen not only for their age and quality, but also for their ability to convey those characteristics that typify the particular Pinot Noir appellations, whether it be the firm structural elements of wine from the limestone of Chalone, the dark fruit flavors of the Sonoma Coast rocky ridge tops, or the racy Bing cherry profiles from the Goldridge soils of the Russian River Valley. The winemaking approach is biased to accumulate the particular flavors and aromatics natural to each site."
Harrington promises and he delivers. Each wine speaks of its terroir and has a distinctive personality. Beyond this, the wines retain an appealing finesse that makes Pinot Noir irresistible. There is no heavy handiness at work here. All the 2008 wines are very approachable. Prices are sensible. The wines are sold by e-mail or phone at www.harringtonwine.com (415-824-1824). There is a growing list of wine bars, restaurants and retailers that carry Harrington wines and the list is offered on the website. Winery open houses are offered periodically as well. In 2008, Harrington has added a Nebbiolo which is also reviewed here. Bryan is pictured below left pouring at the Anderson Valley Pinot Noir Festival.

'this'