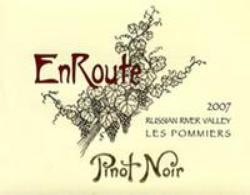 The Nickel Family (Far Niente, Dolce and Nickel & Nickel) entered the Pinot game with the release of the 2007 EnRoute Les Pommiers Russian River Pinot Noir. Nickel & Nickel had experimented with Pinot Noir since the aq1980s and had quietly been producing a string of vineyard-designated Pinot Noirs in small quantities from the Dutton Ranch's Manzana Vineyard and Spring Hill Vineyard in Petaluma. The success of these wines led to the establishment of a new label and winery exclusively devoted to Pinot Noir. The name is a nod to the history of apple growing in the area.
The partners bought an old apple orchard and planted 21.5 acres to clones 115, 777, Pommard 5, Mt. Eden, Swan, and 2A (christened the Graton Vineyard), and acquired the 22-acre Amber Ridge Vineyard which is composed of clones 115, 667, 777, Pommard 5. The 2007 EnRoute Pinot Noir was primarily sourced from Manzana Vineyard, but beginning in 2008, the EnRoute Pinot Noir was sourced from the two estate vineyards and a small amount of Manzana Vineyard.
The winemaker is Andrew Delos, a former assistant winemaker at Nickel & Nickel who previously worked with Russian River Valley fruit at Pellegrini Family Vineyards. Until a new winery is built, the EnRoute Pinot Noir is being produced in another winery facility in Graton.
The winery's art deco label is among the smartest labels I have ever seen. The EnRoute Pinot Noir is highly allocated to a mailing list with limited restaurant and retail distribution. Annual production is about 5,500 cases. To acquire, visit the website.