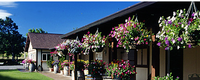 A Hood River winery that sits on a ridge above the Columbia Gorge in the Columbia Gorge AVA. The winery has captured many rave reviews, including Wine Press Northwest's 2007 Oregon Winery of the Year. Founded as the second winery in Hood River in 1985, and known originally as Flerchinger Vineyards, the winery was acquired by winemaker Robb Bell in 2003.
Bell invited fourth-generation Californian winemaker Michael Sebastiani to join the team along with Lonnie Wright of The Pines Vineyard and Winery as the winery's grape specialist. Sebastiani was born and raised in Sonoma Valley and began working summers in the vineyards at the age of ten. He completed his winemaking degree at UC Davis and started his career at the family business, Viansa, building their Italian varietal program. He later founded Generations of Sonoma Winery and soon after became the winemaker for Cathedral Ridge Winery.
A Pinot Noir is produced from the Bangsund Vineyard in The Dalles, Oregon and Huber Vineyard in Underwood Mountain, Washington.
The wines are sold on the website. A tasting room is open daily from 11:00 to 6:00 at 4200 Post Canyon Dr.. Named one of the best spots for picnics by Wine Press Northwest. Multiple special tasting options including a tour are available by appointment. The winery's blog is very informative, offering multiple recipes.