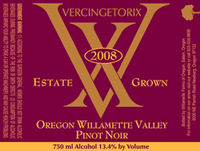 The winery, Vercigetorix or VX for short, is a name derived from a Gallic hero named Vercingetorix, whose father brought his Celtic clan into Burgundy around 100 B.C.. Vercingetorix united the clan against Caeser and the Romans and adopted a scorched earth policy sparing the precious vineyards and his clan's settlement, Averticum. Vercingetoris is honored by the Burgundians to this day for his efforts on behalf of the region.
The winemaker is John Grochau.
Vercingetorix produces Pinot Noir and Pinot Gris. Tasting by appointment in Newberg, Oregon (503-538-9895). The wines can be order by phone.