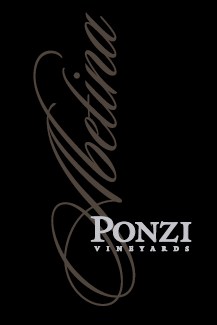 Dick and Nancy Ponzi established Ponzi Vineyards in 1970 in Beaverton, Oregon, 15 miles southwest of Portland. They were from California where Dick worked as an engineer for Disneyland creating rides. They developed an interest in Burgundy and traveled to all the wine regions of Europe. California seemed too warm for Pinot Noir and no one was producing Pinot Noir of note in California at the time. With three children and some cats and dogs in tow, they moved to the Willamette Valley, becoming one of Oregon's early wine pioneers.
The first vintage of Ponzi Pinot Noir was 1974. For 14 years, Dick taught engineering at Portland Community College to supplement his income. The sale of Ponzi wines gradually increased and they broke even in 1984.
It wasn't until the 1985 vintage that Oregon got national recognition with a New York Times article and Dick was able to quit his day job teaching and begin making wine full time. Nancy was in charge of selling it. In 1988, Dick made Robert Parker's list of World's Best Winemakers.
Dick has been active in promoting Oregon's wine industry for years. He was a founding member and first president of the Oregon Winegrowers Association, and served as a founding Director of the Oregon Wine Advisory Board (now the Oregon Wine Board). Nancy helped create the first Discover Oregon Wines guide, co-founded the International Pinot Noir Celebration, the Salud Oregon Pinot Noir Barrel Auction and, most recently, Oregon Pinot Camp. In 1997 they created a regional tasting room and a full service restaurant showcasing local wines and food called The Dundee Bistro. Ponzi Vineyards is one of Oregon's top 20 Oregon wineries by brand with over 30,000 cases produced annually.
Ponzi Pinot Noirs have won critical acclaim through the years. The wines have always been intense, savory and concentrated. Consistency has always been a hallmark, even during the uneven vintages of the 1990s. My Oregon wine epiphany was a 1992 Ponzi Reserve Pinot Noir made from a single vineyard that was 18 years old at the time and I have continued to enjoy many Reserve bottlings since.
The three Ponzi children, Michel (Operations Manager) , Anna Maria (President) and Luisa (Winemaker), grew up helping out in the vineyard and in the family's winery and operate the family business now. All of them pursued other careers initially, with Luisa studying pre-med, Anna Maria began working for a magazine on the East Coast, and Michel was a jazz musician in Los Angeles. They had a strong pull to the land, the seasons and the harvest and eventually returned. They are continuing the family tradition of community and wine industry service. Even their eight grandchildren are now being introduced to viticulture and the operation of the winery at an early age. Luisa is a highly respected winemaker who was trained in Burgundy and now is married to another notable winemaker, Eric Hamacher.
Luisa Ponzi watched as her parents built Ponzi Vineyards beginning in 1970 and worked in the vineyard and cellar most weekends. After graduating from Portland State University in 1990 with a Bachelor of Science, she moved to Beaune, France, to study winemaking. In 1993, she received the coveted Certification Brevet Professionel D'Oenologie et Viticulture. At the time, she was the only American woman to earn such a credential. While in France, she worked at Domaine Georges Roumier.
Maria Ponzi has directed the company's sales and marketing programs for more than 20 years. She oversees daily operations, including the tasting rooms. She is a leading female figure in the Oregon wine community and is actively involved in promoted the state's tourism.
The Oregon Wine Board recently presented Dick and Nancy Ponzi with a Lifetime Achievement Award at the annual Oregon Wine Symposium in Eugene, Oregon. The award is put forth by colleagues currently working in the Oregon wine industry.
A new Ponzi winemaking facility was completed for the 2008 harvest. It is located closer to the estate vineyards on the east and north faces of the Chehalem Mountains. The 30,000-square-foot sustainable, gravity-flow winery is named Colina de Sogno (Hillside of Our Dreams) and was designed by Dick Ponzi. It is plenty large for Ponzi's 45,000-case annual production. The new winery is one of the first to be certified under the LIVE Winery plot program. The new winery is not open to the public, but he current tasting room at the old winery will remain open.
The Pinot Noir lineup includes Tavola, Willamette Valley, Reserve, Il Luce Vineyard, and Abetina Vineyard. A value-priced label, RouteStock Cellars, is made for Wilson Daniels group. 40% of the fruit used for Ponzi wines is estate grown at several sites (130 acres), with the remainder coming from vineyards owned by others but managed by Ponzi. All estate vineyards and most of the contract grapes are certified through the Oregon LIVE and Salmon Safe programs.
Ponzi has always been successful with Pinot Gris which they first planted in 1978. Luisa has also done well with Chardonnay in a style that is somewhere between the big Caliesque wines popularized in California and the more discreet white Burgundies.
Ponzi Vineyards has two tasting rooms. The original tasting room is located at the site of the first estate vineyards and winery at 14665 SW Winery Lane in Beaverton and is open from 11-5 daily. Tours are available by appointment (503-628-1227). The Ponzi Wine Bar is located at 100 SW 7th St in Dundee and is open from 11-5 daily (503-554-1500). The wines are distributed in all fifty states by Wilson Daniels and sold on the website. Ponzi wines are also exported to Canada, England, Sweden, Japan and Hong Kong.