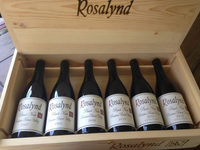 David G. White, author of the novel, The Good Life, and Lois Takahashi launched a new winery with the 2007 vintage. The first release consisted of 100 cases of 2007 Russian River Valley Pinot Noir sourced from Windsor Oaks Vineyard. A Chardonnay was added in 2010. Subsequent releases were from Russian River Valley and Carneros sources.
The winery is named after the mysterious young woman in the red dress from his novel.
A new winery was opened in 2011 located in South Napa. The wine is sold on the website with some retail and restaurant distribution. Tasting by appointment at the winery - 707-337-3348.