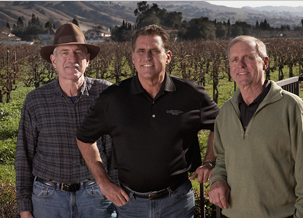 The Guglielmo family has been producing wines in the Santa Clara Valley since 1925, a winemaking tradition spanning three generations. Today, brothers George E. and Gary retain the family tradition producing wine from more than 100 acres of Santa Clara Valley estate vineyards, as well as wines from other premium wine growing regions within California.
George E. Guglielmo, a graduate of Fresno State University's Viticulture and Enology program and Alan DeWitt are the winemakers. A number of varietals are offered including a Monterey Pinot Noir.
The wines are sold through the winery's online store. Guglielmo Winery's Tasting Room is open daily at 1480 East Main Avenue in Morgan Hill, CA. The Villa Emile Event Center is available for weddings, receptions, and private events.