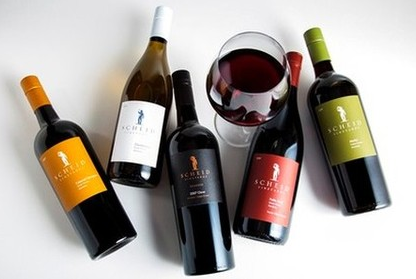 Scheid Vineyards is one of California's largest and longest-standing winegrowing operations. total acreage under vines is 4,000 acres over 10 estate vineyards all in Monterey County (spread over 4 AVAs). The Scheid family made their first wine under the Scheid label in 1989.
The winery handcrafts small lot, artisan wines from ten estate vineyards in Monterey County. The Pinot Noir is sourced from six of those vineyards with Riverview Vineyard comprising 57% of the blend. Other vineyards in the blend include Mesa del Rio, Scheid, Viento and Central all located in the Greenfield area. 1% Syrah and 1% Petite Sirah are added in. A reserve bottling of ten specially-selected barrels aged 19 months in 100% French oak is also offered.
Scheid Vineyards sells grapes to 20 wineries and custom crushes wine for 20 winery clients. Bulk wine is sold to 40-50 wineries annually.
The winemaker is Dave Nagengast.
Two tasting room locations: Wine Lounge on Cannery Row in Monterey open daily and Estate Winery and Tasting Room at 1972 Hobson Ave., in Greenfield also open daily.