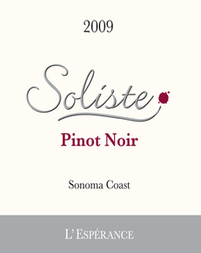 Soliste is a collaboration between long time friends Elisabeth and Claude Koeberle and Beth and Donald Plumley. The name, Soliste, is derived from the special barrel or "soliste" that Burgundian winemakers reserve for their family and friends. Koeberle is completely and utterly infatuated with Burgundies. The winery's Pinot Noirs are sourced from selected terroirs in the Sonoma Coast. The wines are old world in style ("Chambolle Musigny in the New World").
Beginning in 2010, Soliste began production of two different lots of Chardonnay, one aged in French oak and one in concrete eggs.
Soliste is sold through a mailing list and has distribution in many fine restaurants in California, Texas and New York.