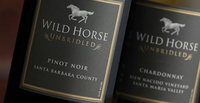 Wild Horse Winery & Vineyards was founded in 1981 by Central Coast winemaker icon, Kenneth Volk. It is named after the wild mustangs that roamed the hills east of the vineyard estate. Volk built his winery in 1983 and that same year crafted a Pinot Noir from Sierra Madre Vineyard in the Santa Maria Valley that brought him early notoriety and success. Volk produced a wide range of varietal wines and eventually reached an annual production of 150,000 cases. Some of his most memorable Pinot Noirs were released under the Cheval Sauvage label. In 2003, Volk sold Wild Horse Winery for $48 million to Peak Wines International who then sold it to Constellation Brands.
Currently, Wild Horse sourced grapes from over 50 vineyards throughout California's Central Coast. The winery specializes in Pinot Noir, Chardonnay, Viognier, Cabernet and Merlot, but also produces small lots of rare varietial wines such as Malvasia Bianca, Verdelho and Blaufrankisch which are only sold at the winery.
Their are three levels of Pinot Noir: Wild Horse Wines (wine stores and restaurants), Cheval Sauvage (French for "Wild Horse," this is a reserve wine selected from special barrels), and Unbridled Wines (limited-production releases, many of which are only available directly from the winery). The Unbridled label was re-launched in 2015, offering a Pinot Noir and Chardonnay from the 2014 vintage using grapes sourced from nearby Santa Barbara County.
The winemakers are Chrissy Wittman and Todd Ricard.
The winery and tasting room are located in Templeton, California, along Highway 101 just south of Paso Robles. The tasting room is open daily from 11:00 to 5:00.