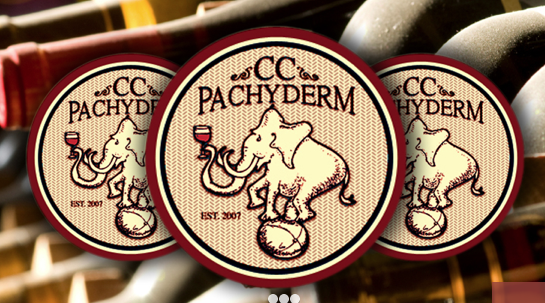 World-renowned musician Les Claypool of the alternate rock band Primus is the man behind Claypool Cellars along with partners Jay Meyer and Slawek Michalak. Claypool says he "sort of stumbled into wine." He had lived in the Russian River Valley for nearlhy two decades and had access to many wines. Many of his friends were winemakers, coopers, vineyard managers, etc., so amazing bottles would show up at his BBQs. Finally, and a couple of pals said, "WE spend a lot of money on wine, let's make our own, it will be cheaper." That has proven to be one of the most ignorant things that has ever come out of his mouth because he found that making wine, especially high-quality wine, is extremely expensive.
About 500 cases of Purple Pachyderm ( a name linked to the Primus song, "Southbound Pachyderm") Pinot Noir are produced at Vinify Wine Services in Santa Rosa. Grapes are sourced from Hurst Vineyard in the Laguna de Santa Rosa watershed of the Russian River Valley. Claypool claims there have been Sasquatch sightings in the redwoods near the vineyard. The first release was from the 2007 vintage and was crafted by Shad Chappell. In 2011, the winemaking team became Ross Cobb and his partner Katy Wilson and their first full crush to bottle vintage was 2012.
Claypool is a man of many interests and talents. Besides his innovative slap-style of bass playing, he wrote and directed a film (Electric Apricot), wrote a book, directed several solo projects (Oysterhead, The Frog Brigade), and wrote the theme song for the TV show "South Park." He lives in the Russian River Valley.
The wines (a Rosé called Pink Platypus is also produced) are sold online.