Banshee Wines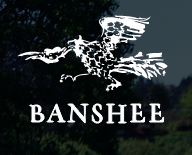 This winery was founded by three friends from the Midwest and East Coast who shared a passion for wine. Their paths converged in San Francisco and in 2009 they pooled their money to make the first vintage of Banshee Wines Pinot Noir which sold out in three months.
This winery focuses on Pinot Noir from the Sonoma Coast and West Sonoma County. In 2012, Ross Cobb (Cobb Wines, Hirsch Vineyards) and Katy Wilson (LaRue) were brought on as consulting winemakers.
The wines have become quite popular and are sold through the website. A value-priced label, Rickshaw, is a California blend aged in stainless steel and oak ($15).
Reviewed Wines

2012 Banshee Marine Layer Sonoma Coast Pinot Noir

13.0% alc., 200 cases, $50. A blend of the best Sonoma Coast vineyard sources including Coastlands, Rice-Spivak, Hellenthal, Emmaline and Jack Hill. Winemaking consultant is Ross Cobb. Aged 15 months in 10% new French oak. · Moderate reddish purple hue in the glass. Aromas of black cherry and coffee-scented oak. Satisfying mid weight core of dark red cherry and raspberry fruit with some finishing length. Impressive balance and harmony with good integration of oak and juicy acidity. Score: 89. Reviewed July 19, 2014 ARTICLE&nbsp»

2011 Banshee Marine Layer Sonoma Coast Pinot Noir

13.7% alc., 100 cases, $45. A blend from four sources. Aged 15 months in 20% new French oak barrels. · Moderate reddish-purple color in the glass. This is a perfect example of the challenge of reviewing Pinot Noir. After opening, the wine was good but not great, but when tasted the following day from a previously opened and re-corked bottle, the wine had become considerably more expressive and nuanced. The bright fruit aromas of Bing cherry, blueberry and spicy red raspberry combined with a hint of red rose petals is very enticing. Modest in concentration but big on flavor, the wine shows off a juicy core of dark red cherries and berries caressed by soft tannins. The underlying acidity brings vibrancy to the palate and finish. A refined wine with style and grace. Score: 90. Reviewed October 27, 2013 ARTICLE&nbsp»