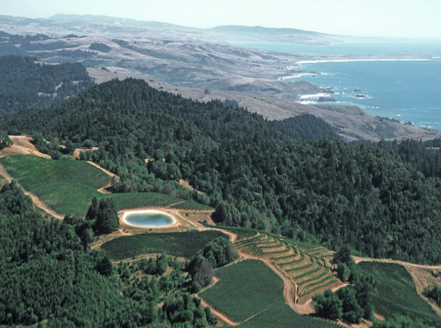 Lester and Linda Schwartz came to the true Sonoma Coast from an unlikely location, South Africa. While students at the University of Cape Town in the 1960s, they met and shared their love for food and wine. They married in 1967, and emigrated to the United States nine years later, settling in the San Francisco Bay Area. Lester longed for the country life he grew up with in South Africa and located a remote property in the high coastal ridges near the Pacific Ocean, just south of the small town of Fort Ross. He and Linda purchased the 970-acre property, built an unusual house offering dramatic views of the surrounding countryside, and planted a vineyard.
Linda studied viticulture at Santa Rosa Junior College and took classes at University of California Davis. Although her background was in music composition, she had an affinity for working the soil and operating farm equipment. Lester and Linda, along with a small crew, began in 1994 to develop their 50-acre vineyard. They installed a sub-surface drainage system and miles of fencing to keep out the deer and wild boar. Preliminary plantings with a test vineyard indicated the area was ideal for growing Pinot Noir and Chardonnay. The vineyard is less than a mile from the Pacific Ocean, and is one of the closest, if not the closest vineyard to the ocean in all of coastal California. A total of 28 vineyard blocks ranging in size from one-half to two acres are planted in heterogeneous microclimates scattered over the ridge tops at 1200 to 1700 feet. Pinot Noir plantings included field selections of Calera, Pommard, Swan and Dijon clones 115 and 777. Pinotage is also planted.
There have been a few winemakers with the latest as of 2012 being Jeff Pisoni who crafts the wines in Santa Rosa. The quality of the wines have taken a leap since he took over.
Pinot Noirs offered include The Terraces, Top of Land, Highlands, Stagecoach Road and Wild Coast Reserve (in 2013). Chardonnays include Mother of Pearl and Peak. A 2013 Sea Stars Blanc De Noir sparkling wine was released from a single block of Dijon clone plantings.
Sales office is 550 Indiana St, San Francisco, CA. The wines have limited retail distribution and are available on the website . Vintages dating back to 2002 can be purchased from the winery's library. The phone is 415-701-9200. Limited private vineyard tours are available to wine club members by appointment only.