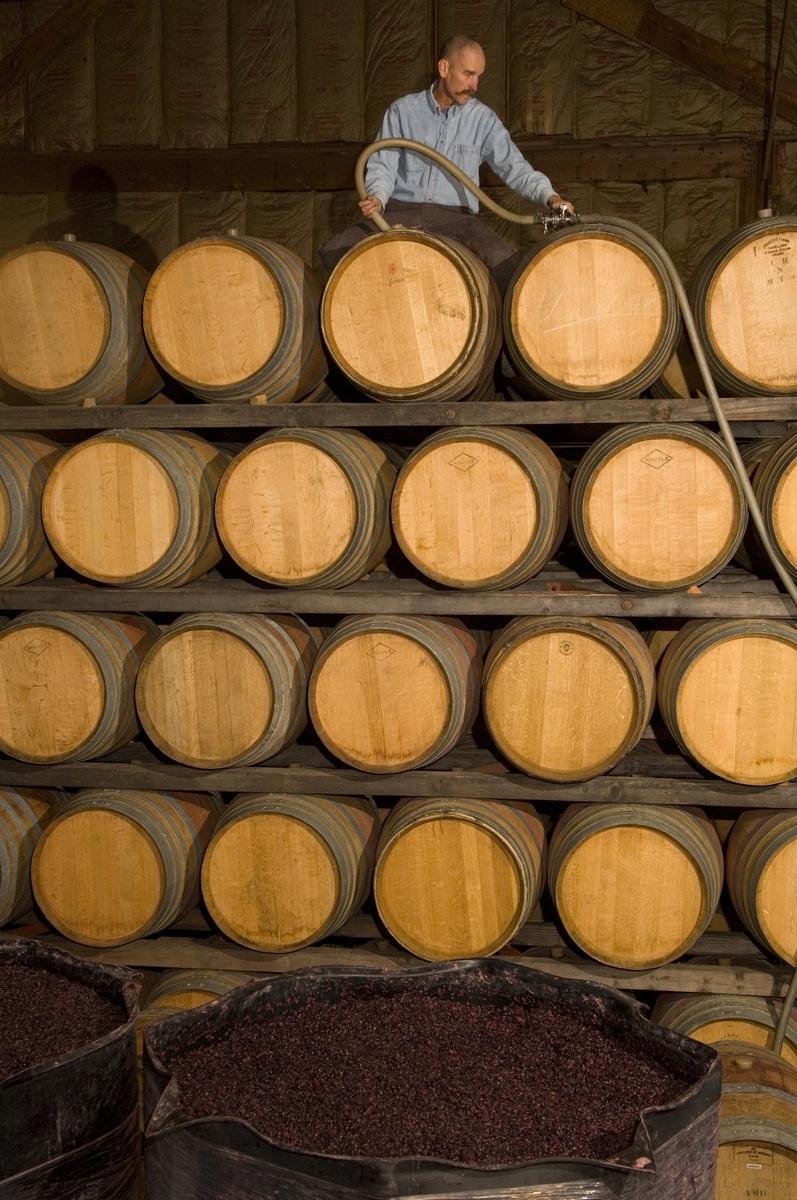 Established in 1987, Argyle farms over 350 acres in both the Dundee Hills and Eola Hills-Amity District AVAs. The co-founders are Texan Rollin Soles and Australian Brian Croser. Rollin Soles earned a Master's Degree in Enology at University of California Davis in 1978, and worked at Chateau Montelena in the Napa Valley before going to Australia and meeting Croser of Petaluma Winery in the Adelaide Hills. In 1985, Soles moved to Yamhill Valley and laid plans to launch a new winery, backed by Croser. He linked up with viticulturist Allen Holstein In 2000 and together they opened the Argyle Winery in 1987, working out of a former nut processing facility in Dundee.
Sparkling wine was Argyle's signature wine from the beginning, producing 20,000 cases the first year. Cal Knudsen left his partnership with Dick Erath and joined the Argyle team in 1990, contributing his mature, 120-acre vineyard in the Dundee Hills to the business. Argyle's growth was also fueled by Holstein's association with Stoller Vineyard and the 1996 purchase of Eola Hills land for Lone Star Vineyard.
Croser's Petaluma Winery in Australia purchased Argyle, and then was taken over by drinks giant Lion Nathan in 2001. Soles is still the general manager and winemaker at Argyle.
The winery's focus is on farming vintage-driven wines from great sites. Over 400 acres of vineyards are currently under the direction of viticulturist Allen Holstein. The three major vineyards are the 120-acre Knudsen Vineyard planted in 1972-1974, the 8-acre Stoller Vineyard planted in 1995, and the 160-acre Lonestar Vineyard located 15 minutes south of Dundee and planted primarily to Dijon clones. 130 plantable acres at the southern end of the Eola-Amity Hills was acquired in 2007.
In most vintages there are four Pinot Noirs produced: Willamette Valley, Reserve, Nuthouse and Spirithouse. Nuthouse is a uniquely styled Pinot Noir (nutty if you will) that is intense and bold. It takes its name from the original winery which was housed in a previous hazelnut processing plant. The primary source of the Nuthouse Pinot Noir is the Lonestar Vineyard. Nuthouse Pinot Noir and Chardonnay was first produced in 1992. Spirithouse is a more subtle and silky style. The name comes from the fact that the current tasting room is housed in the former Dundee City Hall which is said to be inhabited by the ghost of a troubled women (the full story is available on the website). The tasting room is one of the busiest in the state.
A tasting room is located in Dundee, OR at 691 Hwy 99 W. The wines are sold on the website and through numerous retail channels. Soles is a champion of screw caps (the sparkling wines are still closed with cork). 503-538-8520. Annual production is 50,000 cases (60% Pinot Noir, 35% sparkling wine and 5% white wines). Sparkling wine production may eventually top 50,000 cases.
Rollin Soles stepped aside as general manager and winemaker at Argyle to concentrate on his own label, ROCO, the winery he started ten years ago with his wife, Corby Stonebreaker-Soles. Soles will stay on as a winemaking and vineyard consultant. Young Nate Klostermann, Soles' assistant for the past seven years, takes over March 1, 2013.