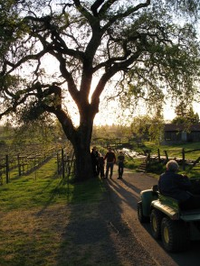 Ken Siebert and spouse Melissa Moholt-Siebert farm the Siebert Ranch, a 31-acre ranch on the edge of Santa Rosa, California that was a sheep farm for many years owned by Ken's grandparent's, Henry and Elizabeth. There are now 15 acres of Pommard 4 clone Pinot Noir planted by the Sieberts family, including Henry who initiated the plantings when he was 80 years old. A big ancient oak marks the center of the property, and provided the inspiration for the name of the winery which was launched in 2006
Both a Russian River Valley Pinot Noir from estate and purchased grapes and an estate grown Siebert Ranch Pinot Noir are produced. The winemaker is Joe Freeman. Check the website for ordering information.
Ancient Oak Cellars opened a tasting room in downtown Santa Rosa in October, 2012. Located in Corrick's Stationary Store, the tasting room is open daily 11:00 to 5:00 (11:00 to 6:00 on Fridays).