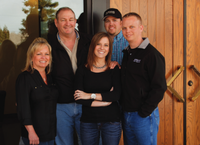 Located in Ripon, McManis is a winegrower and vintner sourcing from over 2,700 acres of estate vineyards in the north Central Valley of California. Founded in 1990 by fourth generation farmer Ron and and his spouse Jamie McManis. A modern winery was built in 1998.
Mike Robustelli, a Fresno State graduate and industry veteran, heads the winemaking team.
In 2008, McManis produced 65,000 cases of a California Pinot Noir (with a small amount of Petit Verdot added). The wines are widely distributed nationwide in retail markets.