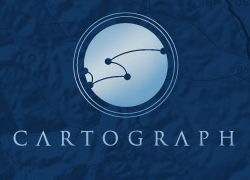 This is a small, boutique winery specializing in Pinot Noir founded in 2009. Owners Alan Baker and Serena Lourie chose a cartograph as their label name and logo. A cartograph is a visual marking of ideas or in their case, a visual depiction of the journey that brought them to winemaking.
Alan Baker left a career in public radio in Minnesota and moved to California to work in the wine industry. He learned winemaking at Unti Vineyards and Peterson Winery. Using his radio production talents, he created a Public Radio sponsored podcast called "Ratcasts From the Cellar Rat" about all aspects of wine production. He continued his wine education at Crushpad in San Francisco where he launched his first commercial brand Cellar Rat Cellars. At Crushpad, he met Serena Lourie who had an equal interest in wine. The couple moved to Healdsburg, and today, Baker makes the wine for Cartograph and Lourie manages the daily operations.
Vineyard sources for Pinot Noir have varied and included Split Rock Vineyard and Two Pisces Vineyard, in the Sonoma Coast, Mariah Vineyard and Perli Vineyard in the Mendocino Ridge and Floodgate Vineyard and Choate Vineyard in the Russian River Valley.
The wines are sold through a mailing list and through the winery's online wine store. A modern tasting room and lounge in Healdsburg opened in 2014. Production is small with many offerings numbering less than 200 cases.