Thirty-Seven Winery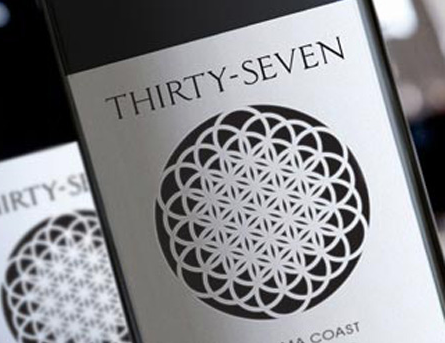 The winery's icon is thirty-seven interlocking circles creating the Flower of Life, an ancient representation of the inter-connectivity between all living things and the inherent balance of nature. The winery's wines are linked to all that surrounds us.
Proprietor Al Brayton found and planted Paradise Vineyard in the Sonoma Coast appellation at the intersection of Highways 37 and 121. Future plans call for a winery to be built on the site. The winemakers are May-Britt and Denis Malbec.
See Paradise View wines.
Reviewed Wines

2013 Thirty-Seven Sonoma Coast Pinot Noir

14.5% alc., 420 cases, $26. · Moderate reddish purple color in the glass. A little volatile acidity initially blows off over time. Hi flying aromas of boysenberry, black raspberry and spice. A forward drinking and expressive middleweight wine featuring a core of purple berries and spice with complimentary toasty oak in the background. Very soft on the palate with balanced tannins and some finishing verve. A flashy wine that would show well in competition. Score: 88. Reviewed December 11, 2014 ARTICLE&nbsp»

2009 Thirty-Seven Sonoma Coast Chardonnay

14.0% alc., 150 cases, $36. Label logo shows 37 interlocking circles that create the Flower of Life. · Very light straw color in the glass. Slight reduction upon opening, improving over time in the glass to reveal aromas of pear, citrus peel, and petrichor. A light, reserved style (no butter or oak here), with green apple and pear flavors, lively acidity and a steely finish. Good. Reviewed June 24, 2012 ARTICLE&nbsp»

2008 Thirty-Seven Sonoma Coast Pinot Noir

14.8% alc., 150 cases, $40. 100% de-stemmed, intensively sorted, extended maceration, aged 11 months in 50% new French oak barrels. Crafted by Denis and May-Britt Malbec. · Moderately light reddish-purple color in the glass. Strong elements of smoke and ash on the nose and in the mouth with fruit flavors of black cherry and blackberries, wrapped in soft, supple tannins. Seems smoke-tainted, but may be strong oak-driven, heavily toast characters. Either way, I find the wine rather unpleasant to drink. That said, my experience has been that there are a number of wine drinkers who welcome smoky Pinots that I find disagreeable. To each his own. Decent. Reviewed June 24, 2012 ARTICLE&nbsp»