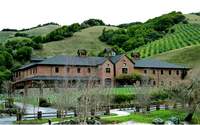 This is a small production project at George Lucas's Skywalker Ranch in Nicasio, Marin County. 2007 was the first vintage under the Skywalker Vineyards label with total production of 60 cases of Pinot Noir and 30 cases of Chardonnay. The vineyard at Skywalker Ranch is located midway between Highway 101 and Tomales Bay, a very cool climate with daily intrusions of fog in the mornings and ocean breezes in the afternoons.
Scott McLeod, the winemaker, the former Director of Winemaking for Francis and Elanor Coppola, has been working with the vineyards at Skywalker Ranch for over 15 years with the Ranch's previous label, Viandante del Cielo ("Travel of the Sky," the closest Italian translation to Skywalker), producing wine for Lucas at Francis Coppola's winery in Napa Valley. This small production label which emphasized Merlot, was used for company events and entertaining.
With the launch of Skywalker Ranch wines in 2010, there is a serious commitment to producing quality Pinot Noir of limited production and distribution. McLeod directed the replanting of the property to shift the emphasis from Merlot to Pinot Noir by moving the vines from the valley (the original 1991 plantings, among the first to planted in Marin County) to the cooler higher elevation reaches of the property (Pinot Noir planting began in 2003). The Pinot Noir is made at the custom-crush Bin to Bottle facility in Napa.
Lucas' love of the grape harkens back to his childhood, growing up in Modesto, California surrounded by vineyards. His inspiration for winemaking was his friend Francis Coppola.
The Skywalker Marin County Estate Pinot Noir, Rosé and Chardonnay are sold through a mailing list (as of summer, 2012, there was a waiting list to join the allocation list). Check also at Francis Ford Coppola Winery.