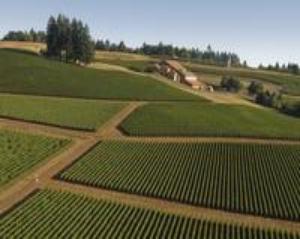 This French-owned winery is one of the most visible and consistently fine producers of Pinot Noir in the Willamette Valley. Veronique Drouhin has crafted the wines here in every vintage since the beginning in 1988. The Pinot Noirs show more elegance and less power than many Oregon Pinot Noirs and they age extremely well. Three Pinot Noirs are produced from the 90 acres of estate densely planted Pinot Noir: Willamette Valley Cuvée, Cuvée Laurène and Cuvée Louise. The limited Louise bottling is one of the greatest Pinot Noirs produced in Oregon and is modeled after wines from Burgundy's Musigny Vineyard. A Chardonnay program was begun in 1996 and in 2008 a Rosé was produced for the first time.
The winery has Oregon's largest wine industry solar system, a 94.5 kW installation from Tanner Creek Energy. The 225-acre estate is certified sustainable by LIVE.
The wines are sold in the tasting room, on the website and through retail channels.