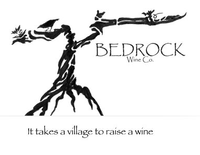 A boutique winery making wine in a converted chicken coop. Winemaker Morgan Twain-Peterson focuses on Syrah from the North Coast, Sonoma Valley Cabernet Sauvignon, quixotic white wines, Rosé, and "California Pinot Noir that ages as well as '74 Swan Pinot Noir." He is attracted to heirloom vineyards that are quite old and very low-yielding.
The winery's slogan is "It takes a village to raise a wine," and fortunately Twain-Peterson has plenty of friends and family who help.
Twain-Peterson made his first Pinot Noir in 1986 from a half-ton of Sangiacomo family Carneros grapes (at age 5 years!) known as Bambino Pinot Noir. In the intervening twenty-two years, he has tried to make Pinot Noir every year. He currently crafts a single Pinot Noir from Rebecca's Vineyard in the Russian River Valley. A
Twain-Peterson is the son of noted winemaker Joel Peterson of Ravenswood Winery and manages his family's Bedrock Vineyards in Sonoma Valley. After successfully completing the Master of Wine exam, he is soon to become one of thirty American M.W.'s.
Bedrock Wine Co. was founded in 2007 in Sonoma Valley. Twain-Peterson is a champion of minimalist technique and prefers old field-blended vineyards.
Along with other winemakers, he co-founded the new Historic Vineyard Society.
The wines are sold through a mailing list with very limited retail distribution.