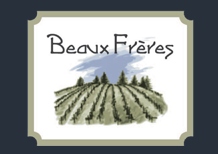 In 1986 while on vacation, Michael Etzel came upon an 88-acre pig farm for sale located on Ribbon Ridge in the Northern Willamette Valley, Yamhill County, Oregon. After some deliberation, Michael purchased the farm with his brother-in-law, Robert Parker, Jr. Michael uprooted his young family from Colorado and moved to the farm the following summer. He began his focused pursuit as a vineyard manager by planting only Pinot Noir and slowly transforming the old pig and dairy farm into his jewel. While planting his own vineyard, Michael worked four harvests at Ponzi Winery. In 1990, Michael harvested his first crop and sold the grapes, except enough to make one barrel, to winemakers Ken Wright and Dick Ponzi. In 1991 with the addition of a third partner Robert Roy, a renovation of one of the barns led to the creation of Beaux Frères Winery.
Robert Parker, Jr. is one of three owners in Beaux Frères vineyard and winery. His interest in the property was spurred by his brother-in-law, Michael Etzel, who discovered the property in 1986. Robert lives in Maryland with his wife Pat, Michael's older sister, their daughter Maia, and various Basset hounds and Bulldogs. For twenty-four years, he has the written and published the independent wine journal The Wine Advocate and authored twelve best-selling books on wine. Robert never reviews Beaux Frères for his publications, but you will find his imprint in the winery's tasting notes, and more importantly, in the philosophy that governs Beaux Frères and its pursuit of excellence.
Robert Roy was approached in 1991 to become a partner in Beaux Frères, and as a result the original partners were able to realize their dreams to build a winery and create their own Pinot Noir label. Robert's business and financial management expertise is an invaluable addition to Beaux Frères Winery.
I was an avid consumer in the 1990s of Beaux Freres but as my palate has looked for more elegance in style, I veered away. The Pinot Noirs have been too extracted and oaky at times, but in recent years winemaker Mike Etzel has refined the Beaux Freres style to some extent and the wines offer more finesse.
The wines are sold both through a mailing list and retail channels. Tasting is by appointment. The winery does offer large formats for sale. A second value priced label, Les Cousins, is offered in certain vintages like 2012.