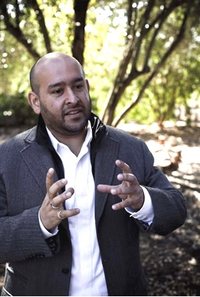 Rajat Parr, the beverage director for the Michael Mina Group restaurants who is stationed full time at restaurant RN74 (owned by Mina) in San Francisco, has joined with Charles Banks, the former owner of Jonata Wines and Screaming Eagle, along with winemaker Sashi Moorman, to produce Pinot Noir and Chardonnay from select vineyards in Santa Barbara County. The inaugural release was February, 2011.
The name, Sandhi, is an ancient Sanskrit word meaning "alliance" or "collaboration" and reflects the partnership of the winery. The stylistic goal of the wines is to avoid extreme ripeness, alcohol and oak and emphasize finesse, minerality, acidity, structure and balance.
All wines are wild yeast fermented with a preference for neutral barrel and concrete vessels, but a small amount of new French oak is employed. All Chardonnays go through malolactic fermentation but lees are not stirred or re-suspended. The white wines go through a light fining and filtration. All Pinot Noirs are mostly whole cluster fermented and are unfined and unfiltered. There are zero additions of water, sugar, acid and enzymes.
The wines will be offered through a mailing list, the tasting room in Lompoc and the website.