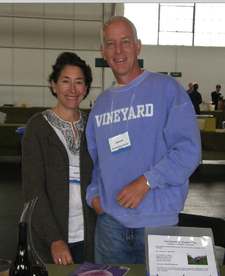 Jonathan and Susan Pey are winegrowers and residents of Marin County who have a shared passion for wine. Jonathan has had a career in the ultra-premium wine industry at Domaine Louis Jadot, Penfolds, and Robert Mondavi Vineyards. Susan is a wine buyer for a large prestigious restaurant group in the Bay Area. Together they launched their own line of wines in 1999 and today produce Pinot Noir and Riesling under the Pey-Marin label and Pinot Noir from Santa Lucia Highlands under the Pey-Lucia label, a Pinot Noir sourced from three appellations labeled The Forager, Merlot and Vin Gris under the Mount Tamalpais label, a Cabernet Sauvignon from Oakville in Napa Valley labeled Textbook and a Paso Robles Syrah called Spicerack. Their umbrella company is Scenic Root Winegrowers.
To be honest, growing Pinot Noir in Marin County is not for the faint at heart. The few vineyards hold much potential when the weather cooperates, but small, even minuscule yields, are often the rule. Jonathan calls the yields "stupid - pick a low number!" The soils are decomposed marine sediment and drain beautifully. Located only 8 miles inland from the Pacific Ocean, the region is quite cool and the resulting growing season is extended in length. Typically, the Pinot Noir clusters and berries are tiny, with high skin to juice ratios.
I have enjoyed several vintages of Pey-Marin Trois Filles Pinot Noir (named after the Pey's three daughters). Jonathan leases and farms part of three vineyards in Marin County: Pey-Marin block (Pommard, Swan and 115) at Corda Vineyard, a block at Stubbs Vineyard (115), and a block at Kendric Vineyard (Pommard, 667, 777). The three sites are quite diverse with differing slopes, orientation, clones, rootstocks, age, location and harvest dates. Pey-Marin and Stubbs are organically farmed, Kendric is (very) sustainably farmed. Pey-Marin is 17 years old, Stubbs is 10 years old and Kendric 8 years old.
Pey-Marin and Pey-Lucia wines can be purchased on the website. A third, value-priced Pinot Noir, The Forager, is a combination of grapes sourced from the Sonoma Coast combined with some Pey-Marin barrels. The other varietals, particularly The Shell Mound Riesling, which is one of top Rieslings produced in California, are worthy of your attention. Sign up for the mailing list to receive advance notice of releases. 415-455-WINE. A tasting room is located in the historic Olema Inn at 10000 Sir Francis Drake Blvd. in Olema. Open daily from 12:00 to 4:00.