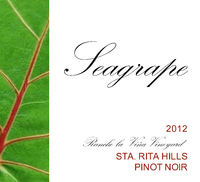 Karen Steinwachs is a refugee from the high-tech world who learned her winemaking under Kathy Joseph at Fiddlehead and is now the winemaker for Buttonwood Farm Winery. Dave Steinwachs was also a techie who offers wineries logistics, warehousing, website and e-commerce solutions through Vintegrated Solutions. They were both big fans of Santa Barbara County wines.
Together, they launched their own label, Seagrape Wine Company. The name comes from their island backgrounds. Dave came from the British Isles and Karen lived part of her life in St. Croix. They manage to always vacation somewhere in the tropics. The Seagrape tree is found near seaside beaches and is a visual reminder of both their winemaking roots and their love of the islands. The vineyard sources for the Pinot Noirs have varied but the wines have consistently fine. A Chardonnay has been produced from the Huber Vineyard.
The wines are sold through a mailing list. Karen is on the Board of of the World of Pinot Noir event. Dave passed away in 2014, but Karen soldiers on.