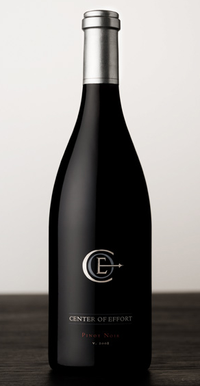 "Center of Effort" is a sailing term used to describe the point on the sail that represents the focus of the wind's energy. The center of effort describes an ideal point of balance and power and thus an appropriate name for Pinot Noir.
Proprietors and sailing enthusiasts Rob Rossi and Bill Swanson produce estate Chardonnay and Pinot Noir (beginning in 2008) from an estate in Edna Valley that dates back to 1978, when it is was established by vintner Jim Lawrence. The vineyard is farmed by the Talley family with Mike Sinor and Nathan Carlson directing the winemaking.
The estate vineyard is located in the western Edna Valley, 4.5 miles from the Pacific Ocean. Soils are rocky and sandy, unlike the thicker clay soils found in most areas of Edna Valley. The soils limit vigor and allow vines to achieve natural balance.
The wines are sold through the website online store. Labels say simply, "Effort."