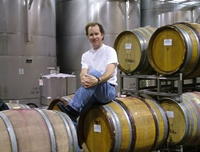 A 600-acre property encompassing three ranches located in Hopland, California. 300 acres are planted to vineyards. The main ranch is home to Saracina Vineyards, a California Certified Organic winery and home to the first wine caves in Mendocino County. The first vintage of Saracina Vineyards included 500 cases of Kathleen's Vineyard Suavignon Blanc from the Fetzer family ranch in Redwood Valley.
Saracina is named after a centuries-old farmhouse and vineyards in Tuscany where owners John Fetzer (the oldest of the eleven children born to Fetzer Vineyards' founders Barney and Kathleen Fetzer) and Patty Rock spent their honeymoon in the late 1990s. John Fetzer's career in the wine industry spans nearly a half century from his early childhood spent in the vineyards of the 1000-acre Fetzer home ranch in Redwood Valley, California, to his rise to position of CEO of Fetzer Vineyards in 1981. Under his leadership, Fetzer Vineyards grew to a production level of 2.5 million cases by 1992. He was an early industry promoter of organic farming and the healthy pairing of food and wine. Fetzer Vineyards was sold to Brown-Forman in 1992.
In 2001, he and his wife, Patty Rock, launched Saracina, a much smaller winery. The name Saracina comes from a Tuscan farmhouse where Fetzer and his wife spent their honeymoon. Saracina Vineyards is located on the site of the former Fetzer Sundail Ranch. The 300 acres of planted vines are either CCOF-certified organic or farmed biodynamically, both of which have been hallmarks of the Fetzer family.
David Ramey was the initial winemaking consultant and in 2002, winemaker Alex MacGregor was hired to learn alongside Ramey. MacGregor is a Canadian who emigrated to the US to enroll in the enology program at Fresno State University. Stints at Everett Ridge Vineyards and Collier Falls led to his position as winemaker at Saracina. He has experimented with a few trial lots of wine in a handful of clay fermentation vessels. Almost all the red wines at Saracina are fermented with a portion of whole clusters. The winery's Anderson Valley Pinot Noir is fermented with 5% to 10% whole cluster.
Saracina produces several varietals including Pinot Noir as well as quirky blends under the Atrea brand. The wines are largely sold through a mailing list. Production is about 5,500 cases per year, most of which is from estate vines or select vineyards in Mendocino County.
The winery building, built almost entirely by John Fetzer on the family's Sundial Ranch, sits against a hillside a few miles north of Hopland. A modern building with a design similar to the winery houses the tasting room.