Nuggucciet Cellars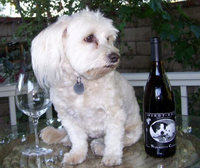 Russ and Nancy Briley released their first vintage of Pinot Noir from the 2009 vintage. The name Nuggucciet is a mixture of the names of the two owner's dogs, Nugget and Gucci. It is pronounced "New Gaa Shay." The grapes were sourced from "The Mesa" block of the Riverbench Vineyard in the Santa Maria Valley planted to Martini clone on its own rootstock. In 2011, grapes were sourced from Oregon for a Willamette Valley bottling. With the 2013 vintage, some fruit from Clos Pepe Vineyard was added to the Riverbench grapes.
The wines are produced at Cantara Cellars in Camarillo with the assistance of owner and winemaker Mike Brown.
Russ is a wine writer for the Ventura County Star.
Articles About Nuggucciet Cellars
Reviewed Wines

2012 Nuggucciet Cellars McKenna Santa Maria Valley Pinot Noir

14.3% alc., pH 3.60, 60 cases, $36. Martini clone from Riverbench Vineyard. Named after Ross and Nancy Briley's first grandchild. · Moderately light reddish purple color in the glass. The aromas of black cherry, cola and spice really pop. Very plush, full-bodied black cherry core balanced by fine-grain tannins that are well tucked in. Plenty of oak compliment in this wine but balanced by the prodigious fruit load. The finish has noticeable persistence and drive. This one really comes at you and demands your full attention. Score: 91. Reviewed March 16, 2015 ARTICLE&nbsp»

2011 Nuggucciet Cellars Willamette Valley Pinot Noir

13.3% alc., pH 3.79, 50 cases, $26. It's "New Ga Shay." Sourced from Hyland Vineyard in the McMinnville AVA. · Moderately light reddish purple color in the glass. Scents of black cherry, spice and espresso lead to a middleweight wine with fresh black cherry and dark raspberry flavors, framed by modest tannins and dominated by an oak overlay. Oak plays too big a role in this wine for my taste, both on the nose and palate, as well as adding oak tannins. Your enjoyment will be predicated on your oak tolerance. Score: 87. Reviewed March 16, 2015 ARTICLE&nbsp»

2009 Nuggucciet Cellars Santa Maria Valley Pinot Noir

14.6% alc., pH 3.60, TA 0.68. 38 cases, $25. Inaugural release from Russ and Nancy Briley. Sourced from Riverbench Vineyard. Martini clone. Name is pronounced "New ga shay," and is a combination of the owners' two dogs' names: Nugget and Gucci. Vinified with consultant Mike Brown of Cantara Cellars at RNB Wineworks in Camarillo, CA. · Moderately light garnet color in the glass. Aromas of strawberries and rose garden. An elegant and easy drinking wine offering demure flavors of red berries and cherries with a hint of spice and sandalwood. Soft on the palate with supple but noticeable tannins, offering commendable balance. Unusually light and red fruited (not in a negative sense) for a Martini clone Pinot Noir. Source: website. Good (+). Reviewed July 1, 2011 ARTICLE&nbsp»