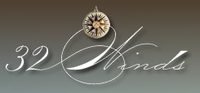 A partnership between winemaker Ehren Jordan (Failla, Turley), business veteran Ed Mascarin, and sommelier Steve Humble. Cabernet Sauvignon, Chardonnay and Sonoma Coast Pinot Noir are featured. The inaugural vintage was 2006.
The name 32 Winds is derived from the 32 points on the compass, each point representing the name of a wind directions. Historically, sailors used these directions to navigate around the globe in search of new locations, experiences and cultures. This is an appropriate name and theme as the team at 32 Winds is constantly searching for the best vineyards sites.
In 2010 a Pinot Noir from Hirsch Vineyard and Sonoma Stage Vineyard (Maestro) were offered.
The wines are sold through the winery's online store.