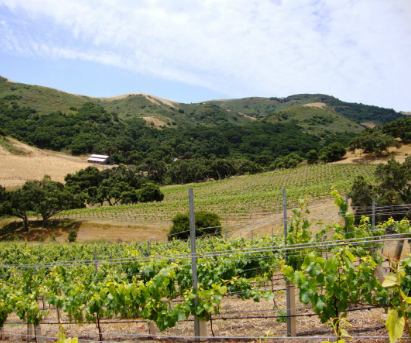 Biodynamic (Demeter certified) family-grown wines including Pinot Noir, Tempranillo, Syrah and Viognier. Most of the grapes are grown at the estate Three Sleeps Vineyard in Mosier, Oregon. Domino IV principals Patrick Reuter (winemaker and owner), Leigh Bartholomew (vineyard manager and owner) and Liz and Glenn Bartholomew (owners of Three Sleeps Vineyard).
Both Bartholomew and Reuter were accepted into the viticulture and enology program at UC Davis but with time to kill before school commenced., they headed to the Southern Hemisphere for harvest. Upon return to the United States, they immersed themselves in the two-year program at UC Davis. After graduation, they worked at Mondavi and ZD wineries and a harvest in Gevrey-Chambertain. They returned to Oregon in 2000. Reuter went to work at Rex Hill and Batholomew landed a job at Archery Summit after their first son was born.
The winery, Domino IV, is a name based on fours: a labyrinth with four quadrants is on the label, they make their wines from four varieties, the year has four seasons, and the wines are released four times a year. A second son was born, so the family consists of four people.
The 15-acre estate Three Sleeps Vineyard is on a 37-acre parcel near Mosier, Oregon. They have been adherents to biodynamics. 8 acres are planted to Tempranillo, viognier and Syrah and one acre is laid out like a labyrinth. Pinot NOir is sourced from Yamhill Valley sites including Stermer, Bella Vida and Maresh vineyards. Bartholomew continues to work at Archery Summit.
The winery in the Granary District of McMinnville is open for visitors on Saturdays 12:00 to 5:00 and by appointment. A Bed and Breakfast is also now open. The wines are sold through the winery's website store and are well-priced. In 2012, production was 3,500 cases.