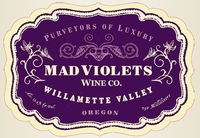 Stirling Fox, a superstar Oregon viticulturist (Stirling Wine Grapes) started this label with the 2009 vintage. Fox manages over 30 vineyards in the Willamette Valley including Maresh, Seven Springs, and Appassionata. He is fortunate to have a talented winemaker spouse in Kelly Kidneigh (The Dukes Family Vineyards, KK Wine Co.).
Stirling owns a small block of the old Jacob-Hart Vineyard previously owned by Rex Hill Vineyards in the Chehalem Mountains. He renamed this 4-acre block Buttonfield Estate.
A Pinot Gris from Buttonfield Estate and a Pinot Noir (Buttonfield Estate and Saikkonen Vineyard blend) is offered in small lots. The Pinot Noir made with minimal intervention with wild yeast fermentations, about 30% new oak, and bottled unfined and unfiltered.
The wines are sold through the winery's online shop and Storyteller Wine Co in Portland, OR.