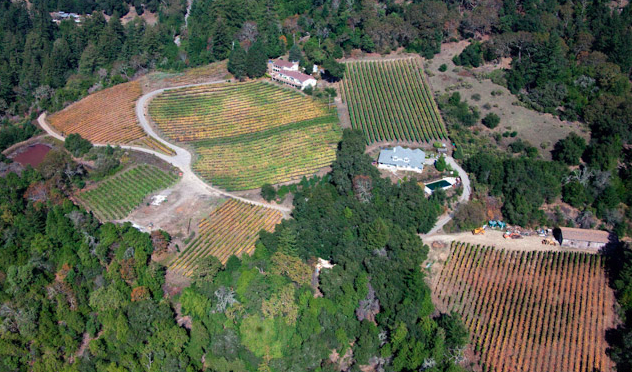 A small premium wine producer in the Santa Cruz Mountains established in 2009 and producing Pinot Noir, Syrah and Chardonnay. The winery is hidden among the redwoods a few miles from Silicon Valley.
In 1967, Gerald Nelson acquired 162 acres of land in the Santa Cruz Mountains and soon after planted the land with Christmas trees. For 30 years, the property was known as Nelson's Christmas Tree Farm, developing a reputation for the quality of the slow growing Silvertip Firs.
In 1999, the Nelson family exchanged Christmas trees for grapevines and planted 9 acres of Pinot Noir (clones 828, 115, 667 and Pommard) and Syrah (Chardonnay was planted later). Philip Nelson grew up in a farming family that raised Christmas trees. The name of the winery is taken from a variety of evergreen firs, ones with a silver-tipped pine needle. He is the third generation to live on this property and although he manages the vineyards, his day job is in the biotech industry.
For many years, the grapes were sold to numerous wineries in the Santa Cruz Mountains. In 2008, the family decided to develop their own brand based on estate fruit. Winemaker Paul Stroth is a minimalist in the winery. He uses as much native yeast for fermentation as possible and employs little new oak for aging.
The vineyard at Nelson home ranch sits at about 1700 feet elevation, with a majority of the property remaining a redwood forest in a natural state. It is situated on the coastal side of the Santa Cruz Mountains with cool maritime breezes moderating the sunshine. The soil is replete with rocks indicating the land was once an ocean floor.
403-395-4200. Production is tiny and prices are very reasonable. Look for the wines at local wine events (a schedule is on the website). Not open for tastings.