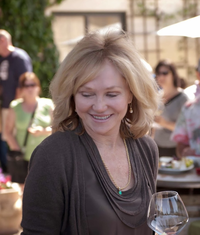 Craig and Kathryn Hall of Hall wines acquired Roessler Cellars in 2010 and reincarnated the label as WALT, the maiden name of Kathryn, to honor Kathryn's parents, Bob and Delores Hall. Roger Roessler, the former co-owner of Roessler Cellars, remains a partner.
WALT is an ambitious entry into Pinot Noir and Chardonnay under the winemaking direction of Steve Leveque, who also crafts the HALL Napa Valley Cabernet Sauvignon wines. Vineyard partners are located in the Anderson Valley, Sonoma County, Sta. Rita Hills, and the Willamette Valley of Oregon. Walt offered 10 Pinot Noirs and 2 Chardonnays from the 2010 vintage.
HALL Wines has two winery locations in St. Helena and Rutherford, as well as the WALT Tasting Room in Sonoma Plaza. HALL is the Cabernet house and WALT is the Pinot house.