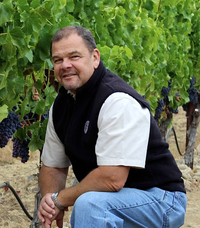 Glenn and Melissa Alexander purchased on old farm house and eight acres of 40-year-old Zinfandel vines in the east end of the Russian River Valley in 2001. Both of the owners grew up in Texas and later she pursed a career in the culinary field, while he built a successful manufacturing company. Inspired by their love of wine, they longed to return to the life of a farmer.
After acquiring the vineyard, Glenn worked at Chateau Montelena while completing the viticulture program at Santa Rosa Junior College. He later did a harvest at Preston Vineyards and spent a year working with a vineyard manager before starting his own vineyard management firm. Today, Bacchus Vineyard Management farms and manages over 400 acres of premium vineyards for wineries such as Kosta Browne, Copain, Paul Hobbs, Pahlmeyer and others.
The Alexander family is now producing wines from family farmed vineyards. The first commercial vintage was 2006.
The name, Sanglier, is French for wild boar, a creature prevalent in the vineyards and on the dinner tables of France and Sonoma County.
A Russian River Valley appellation and Old Camp Vineyard Russian River Valley Pinot Noir are offered. The wines, which include Chardonnay and white and red Rhone varietals, are sold through an online website store and through a mailing list. The Healdsburg tasting room at 132 Plaza St. is open daily (closed Wednesdays during the winter)