DANCIN Vineyards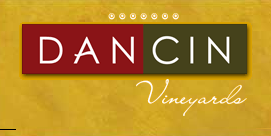 Dan and Cindy Marca studied viticulture through courses from University of California at Davis, Oregon State University and Chemeketa Community College's Northwest Viticulture Center in Salem. Ten years later, in 2007, they bought a 15-acre property near Jacksonville in the Rogue Valley. They named the estate DANCIN Vineyards after the first three letters of each of their names.
The site has a unique exposure making it suitable for Pinot Noir. The vineyard is shaded for up to two hours a day at the hottest time of the day and situated at varied elevations of between 1,700 and nearly 2,000 feet.
The vineyard is adjacent DANCIN's tasting room and winery. By mid-March, there will be just over 19 acres with 67% planted to Pinot Noir, and the remainder to Chardonnay. There are seven different Pinot Noir clones.
The winemaker since 2010 has been Brian Denner, who has been making wine professionally for nearly 20 years. He is a degree in enology from California State University at Fresno and has worked as cellarmaster at Williams Selyem Winery, as an assistant winemaker at Kingston Family Vineyards in Chile, and as winemaker at Denner Vineyards in Paso Robles.
A Tuscan style tasting room has impressive views of the Cascade Range and a wine cave houses barreled and bottled wines. Once all the vineyards are in production, expected output will be 3,000-3,600 cases.
Articles About DANCIN Vineyards
Reviewed Wines

2012 DANCIN Vineyards "Chastinelle Reserve" Southern Oregon Chardonnay

13.7% alc., 100 cases, $30. A blend of five clones (Robert Young, Espiguette 352, Dijon 76, Wente and Draper) grown on the estate and neighboring Panner-Hanson Vineyard. Indigenous yeast fermentation, aged sur lie in a blend of neutral French oak barrels and stainless steel barrels. Weekly battonage. Aged 7 months. · Light golden straw color and clear in the glass. The nose is fresh and bright, with inviting aromas of lemon, peach and tropical fruits. Slightly creamy on the palate with vibrant flavors of lemon, pear and peach and a subtle accent of tropical fruits and oak in the background. A superb wine with excellent harmony, a gentle demeanor, and a good cut of refreshing acidity on the smooth, lemon drop-driven finish. Score: 94. Reviewed January 23, 2015 ARTICLE&nbsp»

2012 DANCIN Vineyards "Élevé" Barrel Select Southern Oregon Pinot Noir

13.5% alc., 99 cases, $34. Named after a ballet movement in which you rise up high on to the balls of your feet relates to the grapes for this wine sourced from the estate's highest elevation vineyard at nearly 2,000 feet. A blend of 777, Pommard and 115. 100% destemmed, fermented in small bins with indigenous yeast, aged 15 months in 40% new French oak barrels. · Moderate reddish purple color in the glass. Aromas of black raspberry, black cherry and cigar box evolve slowly over time in the glass. Ripe-fruited and robust on the palate with sappy flavors of black cherry and black raspberry framed by firm but felty tannins and juicy acidity. Some of the black cherry fragrance returns to haunt the lengthy finish. Score: 90. Reviewed January 23, 2015 ARTICLE&nbsp»

2012 DANCIN Vineyards "Trata" Southern Oregon Pinot Noir

13.4% alc., 150 cases, $34. Clones Wädenswil 2A, 114, 667 and "828." 100% de-stemmed, indigenous yeast fermentation, aged 15 months in 44.44% new French oak barrels. · Moderate light black cherry color in the glass. A bit shy, but pleasing marriage of underbrush, red cherry, spice and oak aromas. Mid weight flavors of red cherries and berries with a subtle savory herb note in the background. Unobtrusive tannins, refreshing acidity and some finishing goodness. Two bottles tasted with consistent results. Score: 88. Reviewed January 23, 2015 ARTICLE&nbsp»