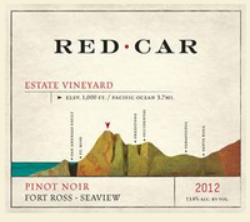 Mark Estrin and Carroll Kemp (Estrin is pictured on the left) of Red Car Wine Company released their first wine in 2000. In their earliest newsletter offering, they talked about their beginnings. "Smart people tell you that whenever you start a business it's a good idea to have a theme that runs like a clear, cool stream through everything the business does. We knew that before we got Red Car rolling and we certainly tried to come up with a compelling one liner. But no matter how hard we tried we couldn't quite get it right. This was particularly frustrating since one of us was a screenwriter for a number of years and the other produced films. Then, we were driving down a gravel road near Santa Ynez. We stopped and got out to look at a small vineyard on the other side of a wire fence. The dirt was light tan, studded with white rocks and stones. The air was pure and sweet. The sky was blue and powdered with high clouds. We just stood there. It was so quiet you could hear birds chirping a mile away And then one of us said, We tell stories. That's what we've always done. That's whatwe're doing now, only with wine. Winemaking is storytelling. The weather, soil and vine are woven together to tell the story of a particular vintage and a particular place. We relate that story when we're fortunate enough to meet you in person or when we communicate by newsletter or phone or email. We try to make our labels entertain and delight you. And finally, when you drink one of our wines, you are actually participating in that story."
The two partners had the right idea and their labels on their upper tier wines offered a prose written by Estrin, each vintage offering a new chapter in an ongoing 1940s-era melodrama. The name Red Car was chosen as it evoked memories of the now defunct Los Angeles Red Car Trolley line. For Pinot Noir (they also produced Syrah from the start), they chose the name, Amour Fou, which is a French expression for a mad, obsessive love. The labels offered a tragic love affair that takes place in 1940s Los Angeles. The first release in 2002 featured a married man named Jack recollecting how his mad passion for another woman has lead him to a very dark place. The subsequent vintages carried on the novella.
Unfortunately, Mark Estrin died in May, 2005 at the age of 57 from a brain tumor. He had a successful career in screen writing beginning in 1979, but left that field in 1994 to pursue his passion for wine. Estrin worked at both Wally's Liquor in Westwood and the Wine House in West Los Angeles. The unique Red Car approach to wine was fostered by his years selling wine to the public. He was beloved for his quiet sense of humor and a sophisticated taste for fine food, wine and cigars.. And although the distinctive Red Car labels and marketing drew much attention because of his efforts, the quality of the wines quickly caught the publics' admiration. Robert Parker wrote, "Red Car has the "Midas Touch" when it comes to producing wines of character and richness."
After Estrin's passing, Carroll Kemp continued to lead a team to improve the quality and character of the Red Car wines in his honor. The initial winemaker was Tim Spear who left to concentrate on his Clos Mimi label. In 2004, Sashi Moorman (Stolpman) and Chris King (Lewis Cellars) came on board the Red Car as consulting and assistant winemaker respectively.
The Amour Fou Pinot Noirs are blends. The initial partners, Carroll and Mark, were not "terroir-istes" at the start. They believed in making the best wines they could from more than one vineyard source. In 2004, Red Car Wine Company raised enough investment capital to buy 128 acres along the Sonoma Coast and vineyards developed here may change Red Car's commitment to "single vineyard-istes." Carroll says "we now prefer Pinot sites that are on the cool climatic edge. This allows us to obtain boldly ripe fruit that is still balanced with the zing of acidity. In California, this happens in Western Sonoma County or 'West County' in local-speak. Our new sites in the 'true' Sonoma Coast will give us another step forward when our '05s are released." Their first vineyard-designate Pinot Noir, The Aphorist, was released with the 2005 vintage (see below).
The style of winemaking has evolved over the six vintages to date. Mark and Carroll produced their first two barrels of Syrah essentially in Carroll's Beverly Hill's garage. The initial vintage of Pinot Noir in 2002 was made like their Syrah and was quite popular with the press and Parker who preferred big, extracted Pinot Noirs. The focus now has reversed and the Syrahs are made more like their Pinot Noirs (the Syrah program was eventually discontinued). The Pinot Noirs gradually became crafted with more subtlety and complexity in mind. The single vineyard Pinot Noirs from the true Sonoma Coast in 2008 and 2009 have taken the transition further and show more nuance, balance and character.
Red Car Wine Company wines are sold primarily through a mailing list. There is limited restaurant and retail (mainly Los Angeles) distribution. Red Car has a modern tasting lounge in Graton on Gravenstein Highway which opened in 2011. The website and newsletter are very impressive and the newsletter as are informative labels that are among the best in the business.