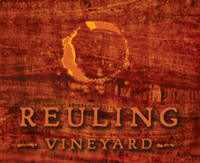 Jim and Jackie Reuling own a 14.4-acre Pinot Noir and Chardonnay vineyard in Forestville in the Sonoma Coast appellation. The vineyard was planted in 2003 in conjunction with Peter Michael Winery using three selections: Calera and two different "suitcase" selections from the Vosne Romanee region of Burgundy. The grapes were the source of Peter Michael La Caprice Pinot Noir in 2007 and 2008, but beginning in 2009, Le Caprice was sourced from Peter Michael's Seaview Estate Vineyard which came into production. An adjacent parcel of Chardonnay planted to a selection from Montrachet Vineyard in Burgundy has been the source of one of Aubert's outstanding bottlings.
The winemaker and vineyard manager is Matt Taylor who formerly worked at Araujo and is a proponent of biodynamic farming.
The first Reuling Vineyard Pinot Noir was released in the 2011 vintage along with a Rosé. A Reuling Chardonnay is planned for 2014.