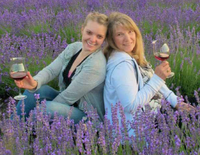 A small, family owned and operated vineyard and lavender farm in Monroe Oregon. Brian and Therese Schafer spent thirty years in Lake Tahoe, California raising their family. They moved to Oregon and launched TeBri Vineyards in 2009.
The vineyard consists of 7 acres of Pinot Noir planted to four clones in distinct blocks. Brian Schafer is the general manager and winemaker.
The winery's tasting room is open summer weekends and Memorial Day and Thanksgiving Weekends.