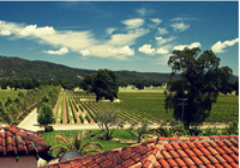 Located in the western section of High Valley at High Serenity Ranch in Lake County, California, the estate includes 2,500 acres. Vineyard planting began in 2001 and a modern winemaking facility has been added.
Owner Jerry Brassfield grew up on an almond and alfalfa ranch in the San Joaquin Valley, owned a winery in the Santa Cruz Mountains in the 1970s, and now owns a world-class winery producing reasonably priced estate grown wines. The wines are estate grown, produced and bottled and vinified by consulting winemaker David Ramey.
A Pinot Noir is offered from the High Valley appellation (High Serenity Ranch Vineyard). The vineyard is located at 1,760 to 1,800 feet elevation and is located in one of the coolest regions in Lake County. Gravelly, sandy loam soils provide good drainage.
The wines are available through retail distribution and on the winery's website.