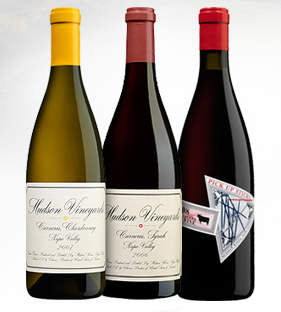 Lee Hudson farms 160 acres of 19 varieties in Carneros. A limited amount of Hudson wine is released (Chardonnay and Syrah). The consulting winemaker is John Kongsgaard and winemaker is Christopher Vandendriessche. Hudson believes he has become a better grower since making his own wines. His preference is for bold, extroverted wines.
Hudson was the scion of an old Texas oil family who was drawn to agriculture, he received a BS in horticulture from University of Arizona. After college, he went to Burgundy and worked for Domaine Dujac where he was smitten with the culture of wine. He returned to the U.S. and worked in Oregon making Pinot Noir for Shafer Vineyard Cellars, but was attracted to California where he began to look for vineyard property. He attended graduate school at University of California at Davis in the 1970s. He bought and developed his property in 1981, with the goal of growing for quality.
Hudson wines are sold on the Hudson Ranch website.
His property in Carneros has stony volcanic soil and cool bay breezes, ideal for Pinot Noir and Chardonnay.