Gypsy Dancer Estates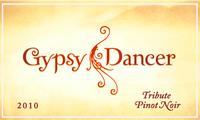 Gary Andrus, who found Pine Ridge Winery in Napa Valley and Archery Summit Estate in the Dundee Hills of Oregon, sold his interest in both in 2001 upon his divorce from his first wife Nancy. He re-emerged shortly thereafter after a remarriage with a new project involving a vineyard in Cornelius, Oregon, a vineyard and winery in Central Otago, New Zealand (Christaine Lorraine Estates), and a Chardonnay vineyard in Carneros. The New Zealand winery entered receivership in 2006 and was sold, and Gypsy Dancer Estates was dissolved. Gary Andrus passed away in 2009.
The Gypsy Dancer label was revived by Andrus' widow, Christine Andrus, in with the 2012 vintage. She enlisted the winemaker at Ghost Hills Cellars, Rebecca Pittock Shouldis to craft a "Legacy" Pinot Noir using grapes from Dukes Family Vineyard. A second wine "Tribute," will be crafted by winemakers who were influenced by Gary Andrus.
Articles About Gypsy Dancer Estates
Reviewed Wines

2012 Gypsy Dancer Legacy Willamette Valley Pinot Noir

13.5% alc., $45. Grapes sourced from Dukes Family Vineyards (Gary and Christine Andrus helped them start in the wine business). Unfined, unfiltered and un-inoculated. · Moderately light reddish purple color in the glass. Shy aromas of cherry, briar and oak. Mid weight flavors of cherry and pomegranate with herbs and oak in the background. A bit tight, finishing with a hint of citrus-flavored cherry. Score: 88. Reviewed July 6, 2014 ARTICLE&nbsp»

2010 Gypsy Dancer Tribute Willamette Valley Pinot Noir

13.0% alc., 42 cases, $65. The first Tribute Pinot Noir made by Todd Hamina of Biggio-Hamina, a long time friend of Gary's. On the back label, Todd shares his feelings of reverence for his friend and mentor. · Moderate light reddish purple color with a slight orange rim. Aromas of cherry, potpourri and smoke. Light but flavorful, with tastes of cherry, cranberry, orange zest, sandalwood and smoky oak. Filled with juicy acidity and offering mature tannins. Score: 88. Reviewed July 6, 2014 ARTICLE&nbsp»