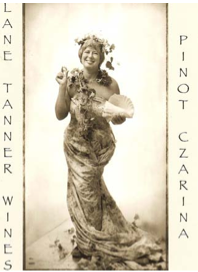 Lane Tanner is a California treasure. Working at Konocti Winery in Lake County on the bottling line in the mid 1970s, her employer found out she had a degree in chemistry and put her in the lab. The first day she was in the lab, she was introduced as the new enologist to the winery's consultant, Andre Tchelistcheff. The only problem was that Lane had no clue what an enologist was. Andre kept telling the winemaker, "Have Lane test this, have Lane test that." Fortunately, Andre liked her spunk and her future career was born. Her experience with Andre has led to her current alias, "Pinot Czarina."
Lane moved on to Firestone Winery in Santa Barbara County and then started her own label, Lane Tanner Winery, in 1984. She was previously married to the owner of the Hitching Post restaurant and made the house wine for that restaurant made famous in the movie Sideways.
She now produces about 1,500 cases of Pinot Noir and Syrah at Central Coast Wine Services in Santa Maria. Her style of winemaking is distinctive. She strives for elegance and avoids high and intrusive alcohol at all costs. Oak treatment is understated, with 20-30% new French oak used during a 12-18 month period in barrel. She remains a one-woman show and does everything from start to finish herself. You won't find her wines prominently promoted, but pinotphiles know to buy everything she makes every year. Largely sold to a faithful mailing list.