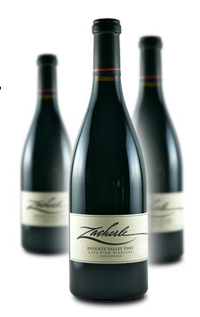 This label is a partnership between winemakers Nile Zacherle (winemaker at David Arthur Vineyards and Montagna) and Whitney Fisher Zacherle (winemaker at Fisher Vineyards). Nile has experience crafting wine at Barnett Vineyards, Chateau Montelena and David Arthur Vineyards in California, and Pierro Margaret River Vineyards in Western Australia. He has a BS in Fermentation Science from UC Davis. Whitney grew up amidst the vineyards of her family's winery. After graduating from Princeton, she worked a harvest and found her calling in winemaking. Working with winemaker Mia Klein, she has been at the helm of ten Fisher vintages.
The offerings including Riesling, Sparkling Rosé, Syrah, Pinot Noir (Carneros), and a Red Wine blend.
Tasting is available at Up Valley Vintners at 1371 Lincoln Avenue in Calistoga which is open daily from 12:00 to 5:00.