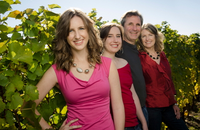 Ed Fus and Laureen O'Brien came to Oregon in 1997, purchased a 5-acre cherry orchard and began development of the Three Angels Vineyard in 2001. Located in the Eola-Amity Hills, the Three Angels Vineyard is named after Laureen and their daughters Alex and Morgan.
Originally the winery was based in Carlton and became known for Zinfandel sourced from Washington. In addition the winery offers Petite Sirah, Primitivo, and an estate Pinot Noir. The winery's Zinfandel is vinified like Pinot Noir.
The brand was established in 2007 and in 2015 found a winemaking home in Portland at Urban Crush that the Fus and O'Brien own. Tasting is available at Urban Crush.