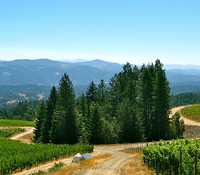 Located 150 miles north of San Francisco and seven miles inland from the Pacific Ocean in northern Mendocino County, Alder Springs Vineyard is a 140-acre patchwoork of 31 blocks growing 29 grape varieties on 15 rootstocks dating to 1993. In essence, it is many vineyards. The hilly terrain offers different sun exposures, elevations, microclimates, soils and drainage. Pinot Noir clones include 113, 115, 667, 777, 459, sA, 828, 943, Swan, Pommard, Calera, La Tache, DRC and Massal.
The grower is Stuart Bewley.
Alder Springs Vineyard sells most of its grapes, retaining some for its own label (including the Row Five line Pinot Noir) vinified by veteran winemaker Byron Kosuge. Clients include Patz & Hall, Rhys Vineyards, Bedrock Cellars, MacPhail, Enkidu, Spell Estate and Townley Wines.