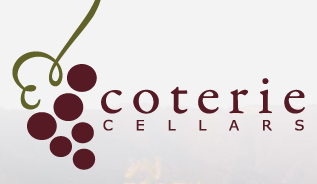 An urban winery in the San Francisco Bay area. Owned by husband-and-wife team of Kyle and Shala Loudon, with Kyle making the wines and Shala handling accounts and marketing. Kyle holds a BS degree from Purdue University and has studied viticulture and enology at UC Davis. Originally the couple were part of a coterie of winery workers for two highly regarded wineries in the San Francisco Bay Area. They began making wines under the guidance of these and other winemakers and establishing relationships with quality vineyards. The first Coetie Cellars wines were released from the 2007 vintage.
The winery is located in Willow Glen just south of downtown San Jose. Grapes are sourced from prestigious vineyards in the Russian River Valley and Santa Lucia Highlands.
The letterpress-evocative labels feature a simple grape cluster and the six grape berries are a nod to the Gang of Six, with whom they made some of their earliest wines before Coterie Cellars.
Open houses and tastings are held frequently (see website). The wines are sold through a mailing list and online through the winery's website store.