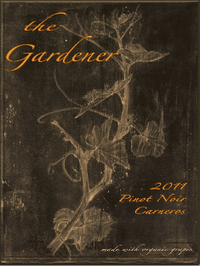 Husband and wife team Chris Condos and Suzanne Hagins produce a line of varietals from organic grapes including a Carneros Pinot Noir. Chris's family background involved wine and he attended UC Davis before beginning his career at Pine Ridge Winery. He launched Vinum Cellars in Oakville in 1997 and has been the consulting winemaker for Kathryn Kennedy Winery since 1998. Together with Suzanne, Horse and Plow was launched in 2008.
Suzanne developed at interest in wine while working in fine restaurants in Charleston, South Carolina. She worked her first harvest in Pommard at Comte Armand and moved to California in 2000, working at De Loach, David Bruce and Goldeneye wineries. She had a small Pinot Noir brand, Lutea, for seven years before starting the Gardener label with Horse & Plow. (For more information and reviews, refer to The Gardener).
The wines are produced naturally with no additions and low sulfites. Horse and Plow offers multiple red and white varietals not including Pinot Noir. A Pinot Noir and Chardonnay are produced under The Gardener label. The Sonoma Carneros Pinot Noir is sourced from a 1-acre block of Scintilla Vineyard that Suzanne has worked with since 2005. It is farmed by Robert Sinskey Vineyards, a leader in organic and biodynamic viticulture.
Current production is 2500 cases annually. The labels are custom designed by family members, Florance Condos and Alan Crockett.
Tours and tasting by appointment at the winery in Santa Rosa. The wines are sold through the website store.