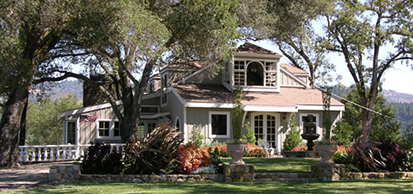 A Napa Valley winery founded by wine collector Don Ross. He acquired a small knoll 3.5 miles north of St. Helena in 2003 that included a .75-acre vineyard, a modest vineyard cottage, a guest house and a winery. The cottage on the knoll was renovated and became the owner's residence.
The name Shibumi derives from a book, Shibumi, that Ross read many years ago and has special interest because it introduced him to the concept of Shibumi, a Japanese word describing a physical and emotional state which translates to "effortless perfection," "understated elegance," or "perfect peace." When Ross decided to make his own wines under his own label, "Shibumi Knoll Vineyards" was appropriate.
Ross enlisted David Abreu as vineyard manager and Chris Dearden as winemaker. He plans to produce small quantities of a few varietals including Pinot Noir that would be competitive with the best in the marketplace. In 2009, a Pinot Noir was offered from the Buena Tierra Vineyard but this vineyard is scheduled for demolition and Ross is looking for fruit from the Sta. Rita Hills.
The winery is not open to the public, but occasionally don and Joann Ross have time to entertain customers so give a call about availability.