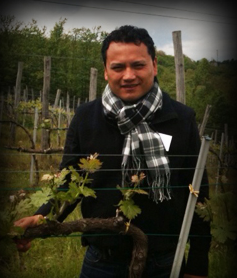 Founder Thomas Perez is a native of El Salvador who finished his early schooling on the Monterey Peninsula after a visit with his brother in Pacific Grove captivated his interest in the area. After high school, he worked at the Highlands inn in Carmel and had an epiphany when attending a wine tasting there. He worked his way up from busboy to sommelier at the Highlands Inn over ten years and worked at many annual Masters of Food & Wine events. He also visited other wine regions of California to experience winemaking first hand.
In 1998, he traveled to France and Germany, and the same year enrolled in a wine and spirits program in San Francisco. He was hired as sommelier at Bernardus inn in Carmel Valley in 1998. To increase his knowledge, he moved to Spain in 2001 where he received a Masters degree in Enology and Viticulture from the Escuela Superior de Enologia del Pals Vasco. Graduating in 2004, he returned to the Monterey Peninsula to work as wine director at L'Auberge Carmel for David Fink.
Perez also directs the wine programs at Cantinetta Luca in Carmel and Cantinetta Piero in Yountville. He worked a harvest at Domaine de la Romanee-Conti in France in 2007. Quite an ambitious man with a very impressive resume!
Perez crafts two Central Coast Pinot Noirs: Sebastian (a blend of 4 well-known vineyards) and Phoenix (a blend of Derbyshire and Solomon Hills vineyards).
The wines are sold through a mailing list. Kristi-Lynn was a famous pornographic actress but I don't know if the winery name is related.