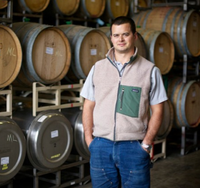 Winemaker Ryan Harms has worked for a number of Oregon wineries in his career. In 2005, he founded Union Wine Company with the idea that he would not accept that wine made in Oregon had to be expensive. His mottos: "Simply Good Wines," and "Pinkies Down."
The labels include Kings Ridge, Alchemist, and Underwood, all reasonably priced versions of Pinot Noir, Chardonnay and Pinot Gris. Riesling is also available under the Kings Ridge label. The winery is known for Underwood Pinot Noir and Pinot Gris in a can.
The winery in Newberg is also home to several other producers including Beckham Estate.